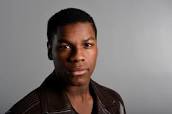 John Boyega is treading new waters as he takes the realm of co-producing the upcoming UK horror themed movie, "A Spriggan."
The Pacific Rim actor, who has also featured in sci-fi movie, Star Wars is onto a whole new experience as he is set to delve into the horror genre in an upcoming flick.
The film is currently in the process of finding its cast and it's unknown whether Boyega himself may appear in the film, however, reports have it that the actor will executive produce the UK fantasy-horror A Spriggan, from writer-director Keir Burrows, the director of the movie, 'Anti-Matter', through his Upper Room Productions banner.
'A Spriggan' is set to follow "a recently widowed mother who returns to her father's isolated hotel only to find a sinister folklore presence haunting the land."
"I'm really excited to be joining A Spriggan and the team behind it," Boyega said.
"In my producing projects, I'm looking for film-maker driven, world-building, cinematic pieces, and have found in Josephine Rose another producer who shares that creative vision and commercial ambition."
"We're looking forward to working with Keir Burrows to explore the monsters of real-life through a dark, twisted, fairy-tale world of the Spriggan." he concluded.