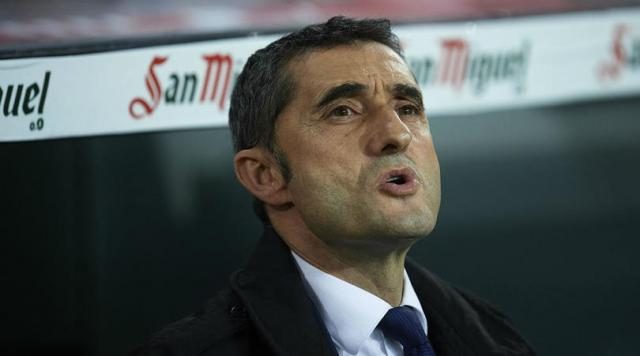 Barcelona president, Josep Maria Bartomeu seem to have confirmed that coach, Ernesto Valerde will remain at the club next season as he recently tagged the coach the "manager we want."
Pressure has been mounting after Barca threw away a 3-goal lead for the second year running and exited the UCL against Roma last season and Liverpool this month.
But Ernesto have said Barcelona is not excluding Valverde from its plans next season.
His words, "Valverde already said the other day in a press conference that he has the support of the president and the board,"
"We renewed him recently. We know that the projects are not short-term. Project are for medium and long-term."
"Ernesto Valverde already said in the press conference. This is a medium and long-term project. He has a contract and we are very happy with him.
"We have won La Liga, we reached the Champions League semifinals and we have the opportunity to win the Copa del Rey final. He has a contract. Now it's time to speak about the Copa del Rey and for the players to recover from the blow to their morale."
"The planning for next season is already underway, and has been for some time," Bartomeu added. "Some players have already signed and we will keep having talks after the [Copa del Rey] final.
"[The final] is not the deciding factor [on whether Valverde stays]. The main objective is the league and then we want the Copa or the Champions League. It's been a magnificent season; we've won [the league] with games to spare. We all want more.
"Now we've got the Copa final and we're coming off the back of a damaging defeat. Now it's about recuperating the support, the excitement, the will to compete and we've still got a week of training left."