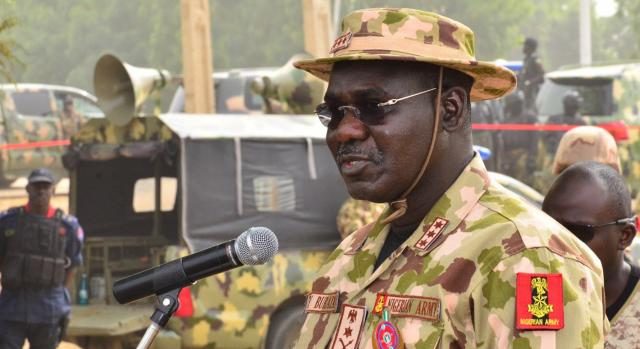 The Chief of Army Staff, Lt.-Gen. Tukur Buratai has come out to say out that insecurity has been curbed all over Nigeria by the Nigerian army.
He revealed this during a visit to the troops stationed at 1 Division Super Camp in Kuyello, Birnin Gwari Local Government Area of Kaduna State on Monday.
Tukur Buratai disclosed that the efforts of the military in the northeast and northwest has decreased insecurity in Nigeria.
His words, "Apart from some isolated remote areas as a result of some other factors, the attacks have drastically reduced.
"That means we are winning and it is a great success which people should be assured.
"All these cries of insecurity which some groups and individuals are taking it as a political game I think they should have a rethink because it is no longer the case.
"Insecurity has been tamed right now in the northeast and in the northwest and even in other areas we are doing so well.
"Our troops are deployed in support of the government, civil police and indeed the civil authoritie."