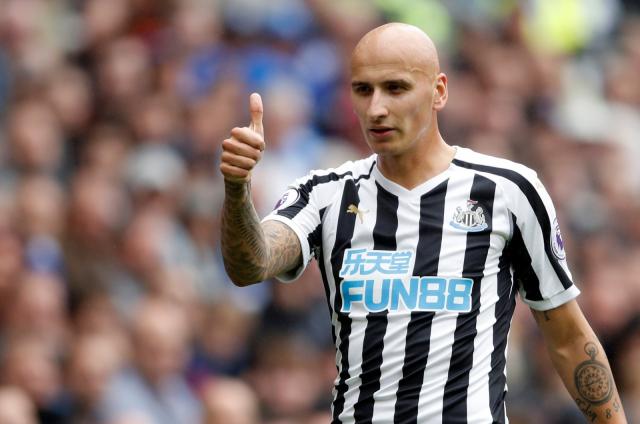 Jonjo Shelvey could be a hero in Liverpool right now after doing his ex-club a favor by netting an important late goal for Newcastle in their 2-2 draw with Manchester City.
Shelvey was a Liverpool player for 3 years at Anfield between 2010 and 2013.
Despite struggling for form at Newcastle lately, he was crucial with a late leveler against City hours ago and he has now said he could pass as a Liverpool hero at the moment.
His words, "We thought we deserved a point.
"They keep the ball so well but we deserved that. We needed to bounce back after Monday but showed we have character and a bit of spirit.
"I might be a hero in Liverpool now but in all seriousness we need as many points as we can and we need to keep moving up the table."
"We worked our socks off today, each one of us put in the 110%.
"When we had possession we did well and we defended for our lives today, you could see the defenders putting their bodies on the line.
"We do a lot of running during the week but on the pitch, the only time we have been defeated was when the other teams outworked us. This, of course, can't happen and if we feel we can run more than the other team we'll always have a chance in the game."
"I saw they were sitting deep and I asked [Christian] Atsu to cut the ball back to me, it was always drifting away from the keeper,"
"I know I can do that, I do it in training quite regularly but it is important to do it in a match and this secured us a point."