🎶🎶🎵Ogunbade ti joba eee, Mosiudi ti joba aaa, Agbejoye ti joba eee, Ewuga oye ti gori oye eee. Ogunbade ti joba, oro Ogere ti dayo.🎶🎼🎼🎼. Culled from Apepe Melody by Chief Nasiru Taiwo Omodugbe.
38 good years just like yesterday when the Apepe song occupied the air to welcome the ascending to the throne of the current Ologere of Ogere, Oba Oladele Moshood Ogunbade, Agbejoye II of Gbenlokun Compound, Ogere Remo.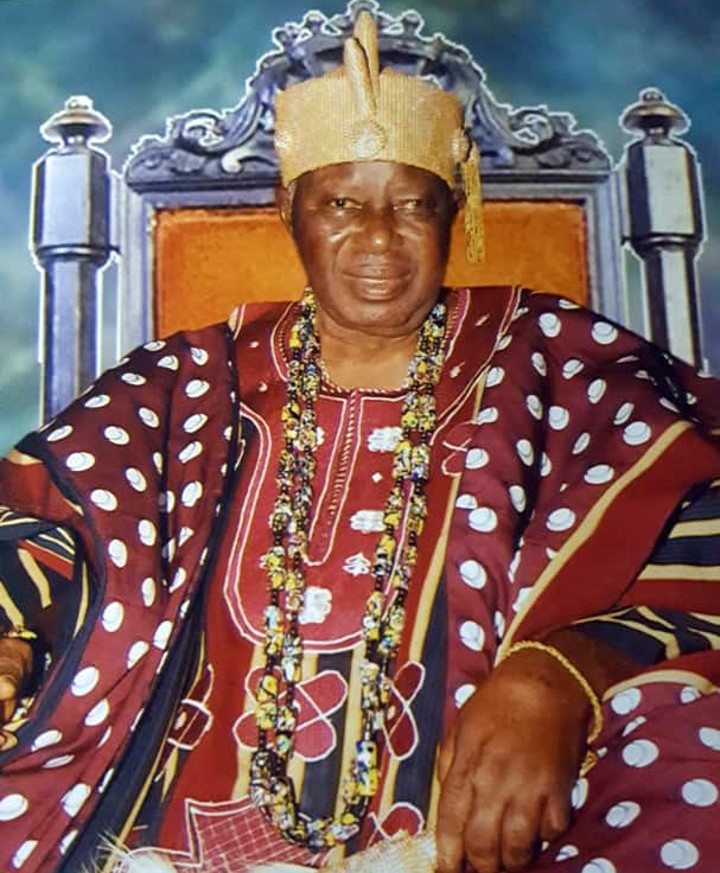 Upon the ascending to the great beyond (Oba o ku, Oba wo Aja) of Oba Babington Asaye, Legunsen II, the then Ologore of Ogere, the throne was zoned to Agbejoye Royal Ruling House.
The 4 Ruling Houses include the following:
1. Legunsen Ruling House
2. Agbejoye / Fadagbuwa Ruling House
3. Kankanbina / Ejigboye Ruling House
4. Oregunsen Ruling House
In contention were the 3 respected and qualified princes as follows:
1. Omoba J. Oshinubi.
2. Omoba Oladele Moshood Ogunbade.
3. Omoba Shitu.
This is another area where we will sincerely miss, Iya Elewa, the Institutional memory and Encyclopedia Ogerenica most. A dearest and great mother that knew recognised and identified almost everybody including the entire history of Ogere land.
Criteria, Recommendations and Guidelines were set for the 3 candidates aspiring for the throne unlike before when the Chief Priest, "Ifa Olokun asoro dayo" would have been consulted.
Some of the Criteria, Recommendations and Guidelines included the following.
Attitudes, Characters, Behaviours, Orientations, Education Background, Humanitarian, Participation, Commitment, Contribution and Dedication towards Community Development.
We could imagine how a candidate was rejected for not assisting fellow citizens with his Car whenever meeting them on the way.
There is where some of us need to take a clue in terms of Community Participation and Development.
It is not always huge financial contributions but meaningful (even very little) contributions including moral, physical, emotional, spiritual, intellectual etc. As little Charity as N1, N2, N3 or "Ajo jowo" in accordance with the capacity and capability count in every Community Development.
Apart from Almighty God that record all our good and bad deeds, people also do and they will always bring out the joker when it matters most.
And the end of screening and nomination Exercises, Omoba Oladele Moshood Ogunbade emerged as the Ologere of Ogere.
The atmosphere was filled with wide jubilations, acceptance and Musicals "Musicacal" to welcome the arrival of the new Oba.
Before enthronement, Oba Oladele worked in the Nigerian Tobacco Company (NTC), Ibadan.
The NTC as part of Corporate Social Responsibilities and staff solidarity took Ogere by surprise with a lot of packages which included Public Awareness, Film shows, free Cigarettes and many more.
Very sure, some of us who witnessed the scene could still remember SM, Target, Marlboro Cigarettes, Cowboys and King Kong films. The Gorilla as big as a three-storey building that used its big hands to destroy buildings and Aeroplanes.
Here we here, celebrating 38 years of peaceful, secured, harmonious reigns of Ologere of Ogere.
His reign has brought a lot of social, industrial and Infrastructural Developments which includes Toll Gates Development, TCC, Animals Cares, Aiyegbami Extension, Agbele, Schools, Churches, Mosques, etc.
We pray Almighty God to grant him long life and prosperity on the throne. May his reign continue to bring peace, a conducive atmosphere and developments to Ogere.
🎶🎼🎼Oba to je ti igbe di igboro,titi laiye laiye la ma se iranti re. Oba to je ti igbe di igboro lo na keji, titi laiye laiye la ma se iranti re. 🎶🎶🎼..
Kabiyesi, Oba Agbejoye, Alase, igba keji Orisa.
Oba wa, Oba wo, Oba wawa wowo.
Kade pe lori, ki bata pe lese.
Ki esin oba ko jo pe.
Kilu dun, kilu toro, kotuba, kotuse, la si ko Oba wa.
Congrats sir.
Credit: Suraju Dauda Korode
Support InfoStride News' Credible Journalism: Only credible journalism can guarantee a fair, accountable and transparent society, including democracy and government. It involves a lot of efforts and money. We need your support. Click here to Donate