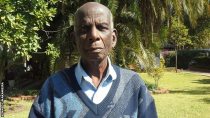 The president of the Confederation of African Football Isaa Hayatou has expressed sorrow at the death of veteran Zambian football commentator Dennis Liwewe.
Liwewe, 78, died in Lusaka on Tuesday.
"I would like to express my deepest sympathy on hearing of the death of Dennis Liwewe, a veteran and highly respected voice of the Zambian and African game."
"Liwewe was a towering figure of African radio live commentaries, a passionate servant of the game whose gigantic standing and contribution to development of radio communication over four decades has served as a reference point and inspiration for many modern day radio broadcasters of Zambian football," Hayatou wrote in a letter to Football Association of Zambia president Kalusha Bwalya.
He proffered condolences of the African football fraternity saying: "Personally, and on behalf of the members of the African football community, I should be grateful if you could extend our deepest condolences to the family of this doyen of commentaries, to his family, friends and loved ones.
Confederation of African Football (CAF) News