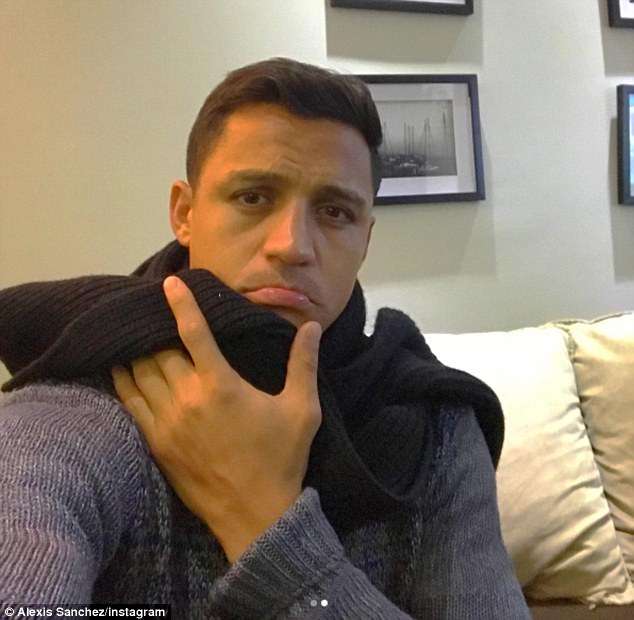 There's a question hanging over Old Trafford and no one seems to have the answer: What in the world has happened to Alexis Sanchez?
He has been a "shadow" of the player he was at Arsenal since his January transfer to Manchester United, according to Gary Neville. Paul Scholes says he "doesn't know" why the move has not worked out.
Privately, even Jose Mourinho has admitted Sanchez's loss of form is a "mystery."
Sanchez's struggles have become an alarming footnote in what has been a worrying start to United's season.
Mourinho, in particular, had hoped it would be different. A slow start with his new club during the second half of last season was put down to the stress of the move and joining a new group halfway through the season. But Mourinho and his coaching staff had hoped a summer off — Sanchez's first without an international tournament since 2013 after Chile failed to qualify for the World Cup — and a full preseason would remedy any lingering problem.
In July, United's official website even published an article detailing Sanchez's summer workloads and suggested a break would allow him to get back to his best.
But after 11 games of the new campaign, Sanchez has been substituted in four of his five starts and been left on the bench four times. He has been axed from the matchday squad once — the same number as his goal tally, although that was a stoppage time winner against Newcastle.
The stats point to a downward, worrying trend. Sanchez has been directly involved in a goal every 333 minutes for United this season. In the last four months of last season, following his move to Old Trafford, it was one every 209 minutes. In three-and-a-half years at the Emirates, it was never more than a goal every 151 minutes. In 2016-17, when he scored 30 times and 24 in the Premier League, he had a hand in a goal every 95 minutes — roughly equivalent to one a game.
The numbers get worse: At Barcelona, he averaged a goal every three games. At Arsenal, it was a goal every two games. At United, it is one in six.
He is already being mentioned alongside Angel Di Maria — another high-profile signing seen as a sure thing at the time — as a victim of United's "cursed" No. 7. Since Cristiano Ronaldo bagged 118 goals in 292 games in the shirt between 2003 and 2009, Sanchez, Di Maria, Michael Owen, Antonio Valencia and Memphis Depay have combined to score 33 goals in 202 games over almost a decade.
There is a feeling at Carrington that Sanchez has not been helped by a series of distractions off the pitch. In February, he accepted a prison sentence for tax fraud relating to his time at Barcelona between 2011 and 2014. Sources close to Sanchez insist he is innocent of any wrongdoing, but the effects of the agreement were still being felt in the summer when his arrival in the U.S. for United's preseason tour was delayed because of a visa issue related to the conviction.
Sanchez's life away from football has also been disrupted. In September, he split from his partner Mayte Rodriguez. Sources have told ESPN FC that in the aftermath he became more distant from his teammates — something Mourinho and his coaches also noticed when Anthony Martial had his private life played out in public in 2016. There were concerns at the time Martial had lost focus after splitting from his wife, Samantha, who accused the Frenchman of being unfaithful in an interview given to a tabloid newspaper.
Sources inside the dressing room paint a picture of Sanchez as a dedicated professional. He is well-liked by the other players but is also happy in his own company. He often does extra gym work by himself and after training goes home to spend time with his dogs, Atom and Humber.
His hard work, on and off the pitch, is mentioned again and again by those who see him every day. So are the high standards he demands of himself and others — sometimes the cause of arguments on the training pitch. Those who have been around the club long enough have likened him to Ruud van Nistelrooy, particularly in the way the Dutchman could be furious after games United had won if he had not scored or, worse still, not received a crucial pass that might have created a chance.
While Mourinho is a fan of Sanchez's fight, sources say he is not fond of that particular side of his personality. It came up in a meeting between Mourinho and Sanchez before the forward was dropped completely for the defeat to West Ham. The confrontation happened a little over a month after Sanchez was reprimanded for launching his own clothing line 24 hours after the defeat to Brighton. His social media posts were swiftly deleted.
On the pitch, there is also a debate about whether Sanchez and Mourinho are suited to each other. The United manager was desperate to sign Ivan Perisic from Inter Milan in 2017 — a more traditional winger he believed could supply chances for Romelu Lukaku. Sources have told ESPN FC that Mourinho was disappointed executive vice-chairman Ed Woodward refused to meet the Croatian's £48 million asking price having set a limit of £45 million.
Mourinho was happy to welcome Sanchez into his squad in January, especially because Manchester City were also interested, but privately speculated Woodward had pushed the boat out because of the Chile international's celebrity status. It did not escape Mourinho's attention that in his next call with investors in February, Woodward highlighted the huge social media engagements generated when the deal with Arsenal was announced.
"Alexis Sanchez has set a new January signing record in terms of shirt sales, three times the previous record," said Woodward. "This trade generated some interesting social media stats. It was the biggest United post on Instagram with two million likes and comments, the most shared United Facebook post ever, the most retweeted United post ever, and the hashtag #Alexis7 was the number one trending topic on Twitter worldwide.
"To put that into context, the announcement posts generated 75 percent more interactions than the announcement of the sale of the world's most expensive player when Neymar moved from Barcelona to Paris Saint-Germain."
Perisic might have been a better fit on the pitch but not off it.
Then there's the matter of Sanchez's football and style of play. His best performances for Arsenal came in a far less rigid system employed by Arsene Wenger than the one implemented by Mourinho at Old Trafford. Sources close to Sanchez have noted the Portuguese coach seems more comfortable praising a recovery run down the touchline than a piece of attacking magic that unlocks a defence.
Sanchez, 29, was often used through the middle by Wenger, but at United that role is filled by Lukaku. Sanchez's preference after that is to play on the left, which has left Martial and Marcus Rashford battling for scraps.
There is a desire on both sides to help Sanchez rediscover his magic. With a contract until 2022 and wages worth £14 million a year after tax, he is not going anywhere soon.
The overriding feeling is that he cannot have become a bad player overnight and the ability that helped him score more Premier League goals than Sergio Aguero and Diego Costa in 2016-17 has not vanished. And, after, all, it's not just Sanchez who's struggling. Simply put: he's playing on a team that's not playing well.
Mourinho needs that to change, and change quickly, if he's got any hope of turning the season — and Alexis Sanchez — around.
Support InfoStride News' Credible Journalism: Only credible journalism can guarantee a fair, accountable and transparent society, including democracy and government. It involves a lot of efforts and money. We need your support. Click here to Donate