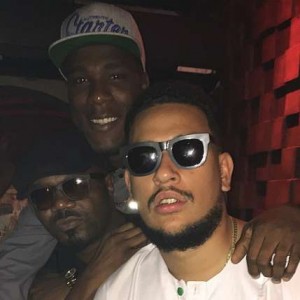 The worst part about my childhood were trips to the amusement park, because I have to ride the merry-go-round, an annoying contraption that takes me in endless circles, and leaves me feeling sick, with a spinning head, unbalanced steps, and lingering nausea. Once I took a risk, refused to hold on, let go, unbuckled my strap, and was thrown out. I gave up, and never had to return there again. The bruises convinced my folks that their outward happiness, meant inner pain for me. I had found a way to bring that pain out.
Burna Boy's recent revelations on Twitter about quitting the music industry has opened up a window into the state of mind of many musicians. A ruthless cycle of events, misses and near-wins, the music industry is a speeding merry-go-round, dizzying all who ride it. With extra resilience and skill required to hang on, stay on it, and avoid the drop from the cycle, many are depressed on the inside, but need to satisfy an external world of fans, dependents and investors. If they quit, they take away the livelihood of many others. So they hang on depressed, but shut it out from everyone, and continue in the cycle of music.
But just like Burna Boy's the windows to their souls get opened periodically. Like Eva Alordiah once considering quitting the mic, and Saeon, whose label troubles made her faith in her existence as an artiste.
It's been a very interesting journey for Burna Boy. Expelled from the UK, he has found second life in Nigeria, where his brand of progressive fusion sounds made him a hit. Controversies from every corner, a constantly-changing business team and direction, a lifetime of press bashing and reportage, producer fights over copyrights, baby mama claims and drama, have all been a constant around him. Where he goes with the music, he brings on an extra baggage of controversy.
With Burna Boy, it's not a choice to be controversial. He is controversy itself. A robust lifestyle of fast money, cars and women, can be such a blessing and a curse for one so young. He just crossed into his 25 birthday. He attracts controversy on every level, never standing down from a challenge, and rewarding every slight against himself and his bloated sense of celebrity with near-thuggish aggression and unguarded threats. He isn't about the life of letting things go.
But all of these incidents wear down a man. There's only so much as a young dude can take. Every incident takes its toll on the psyche of the singer, weakening his resolve to go on, and raising questions about the true meaning of existence. That's why Burna Boy wants to quit these streets – every blessing comes with a set of curses. Perhaps he longs for everything to go away. Maybe he sees redemption in waking up all over again as a normal human; a regular Joe, with all the characteristics of a life away from the fame. What does he crave? A space to exist in normalcy. Where the beer isn't always easy and cold, where he is a part of the big picture, not the guy who sits squarely in the middle, where a day out would not involve a camera, endless selfie requests and double takes from fans and admirers.
But he can't quit music.
The escape he desperately seeks is not going to be a reality. At least not yet. Music is all he knows, all he can do, and the only true marketable skill that he can sell. Damini Ogulu is no one without the toga and skill of Burna Boy. In this case, his business is personal, with the brand Burna Boy intricately linked with his humanity and essence. He is the business, the picture, the plan, and the execution. There's no escape from this, no switching off, no sabbatical…This is his life.
Then there are his dependents. There are money-making systems that exist on earth because of the existence of Burna Boy. Without him, they would all crumble. His mother manages him, his friends rely on his celebrity to make a buck or two, deals have been signed with his name on them, and a tremendous amount of planning have been dropped on his lap. He is the center of many worlds.
Burna Boy is bigger than himself. Bigger than the kid who is delighted to return to the UK after half a decade out. Thankfully, he understands this.
Burna Boy cannot quit music. Not at this point when he is a success. Those nagging defeatist thoughts will remain what they are – A nagging feeling of doubt and escape, that will never be acted upon.
Support InfoStride News' Credible Journalism: Only credible journalism can guarantee a fair, accountable and transparent society, including democracy and government. It involves a lot of efforts and money. We need your support. Click here to Donate