A newly published patent suggests that Canon might be trying to bring a catadioptric optical system back to its camera lens lineup. If the "mirror lens" designs do materialize, we would likely see super telephoto lenses that are much smaller and cheaper than equivalent Canon lenses currently on the market.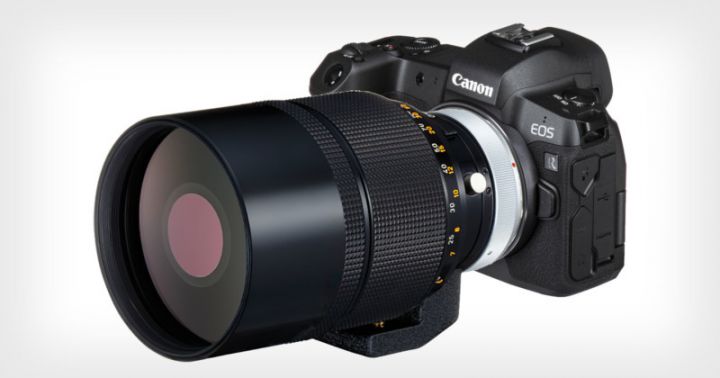 Northlight Images spotted a Canon patent (US Patent 20210141240) titled "Optical System and Optical Apparatus" that was filed in October 2020 and published on May 13th, 2021.
"An optical system includes a first optical element having a first reflective surface concave toward an object side, a second optical element having a second reflective surface convex toward an image side, and a lens unit disposed between the first optical element and the second optical element," Canon writes in the patent's abstract. "Light from an object travels to an image plane through the first reflective surface and the second reflective surface in this order. A movable unit configured to move during image stabilizing includes at least one of the second optical element and the lens unit."
The patent goes on to describe and show the designs of at least 5 mirror lenses (AKA cat or reflex lenses): a 400mm f/3.6, 800mm f/5, 1200mm f/8, 1200mm f/10.5, and 2000mm f/15. What's unusual is that they all have image stabilization built in.
"Has Canon decided it's time for some catadioptric long lenses for the RF system?" Northlight Images writes. "Expect a chorus of disapproval from those who've never owned a cat lens."
The mirrors used to bounce light forward and backward in a catadioptric lens allow lenses to be much shorter than more traditional lens designs, in which light only travels through the length of the lens. The second convex mirror multiplies the focal length up to 4 or 5 times, allowing for super telephoto lenses that are relatively compact.
"In a nutshell, a mirror lens is a compact telescope," B&H writes. "Mirror lenses contain a series of angled circular mirrors that gather the light and, rather than transmit a focused image directly to the camera sensor (or film plane), reflect the incoming light back and forth, each time reflecting a narrower portion of the image until a highly magnified portion of the original image reaches the camera's imaging sensor."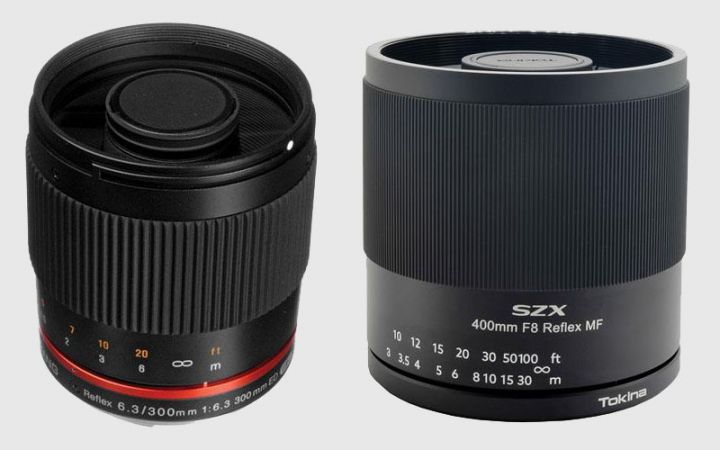 Drawbacks of mirror lenses have historically included fixed apertures (due to the center of the lens being obstructed), low contrast, and donut bokeh (caused by the way light enters the lens through a ring along the outside).
An example of the classic "donut bokeh" from a mirror lens that was used to capture two out-of-focus Christmas lights. Photo by Hustvedt and licensed under CC BY-SA 3.0.
It's possible that Canon has invented clever ways to overcome one or more of these historical weaknesses.
If these lenses are being designed for the Canon RF ecosystem, an advantage the mirrorless cameras would have is that their viewfinders would not be darkened by the small apertures like the optical viewfinders on DSLRs would be.
Canon and Nikon both historically offered catadioptric lenses. Canon mirror lenses have included a Reflex 500mm f/8, 800mm f/3.8, 2000mm f/11, and 5200mm f/14 (one of which was listed for $45,000 on eBay in 2010). Nikon's mirror lenses have carried Mirror-Nikkor and Reflex-Nikkor labels over the years.
These days, a number of smaller brands such as Samyang/Rokinon and Tokina continue to offer 3rd party reflex lenses.
The Samyang/Rokinon Reflex 300mm f/6.3 ED UMC CS for Sony E (left) and the Tokina SZX 400mm f/8 Reflex for Nikon F (right) are two cat/reflex/mirror lenses currently on the market.
Canon Rumors writes that based on the Canon roadmap it has, these mirror lenses could possibly end up in the hands of photographers.
"Interestingly, a Canon RF 1200mm f/8 appears on my Canon RF lens roadmap, Canon Rumors states. "This patent may actually be part of future consumer products. However, I do have it reported as an L lens, so we'll have to wait and see on that one."
Super telephoto Canon lenses have historically been large, heavy, and ultra expensive products geared toward photographers and businesses with very deep pockets. The Canon EF 800mm f/5.6L IS currently costs $13,000, and a used Canon 1200mm f/5.6L was listed for a whopping $180,000 back in 2015.
The releases of mirror lenses could allow the photography masses to try out ultra-long focal lengths — albeit with significantly more limitations — without breaking the bank.
As with any patent, though, there's no guarantee that the things described will ever show up in the real world, but this is definitely an interesting development from Canon that some photographers will be hoping and watching for.
Support InfoStride News' Credible Journalism: Only credible journalism can guarantee a fair, accountable and transparent society, including democracy and government. It involves a lot of efforts and money. We need your support. Click here to Donate