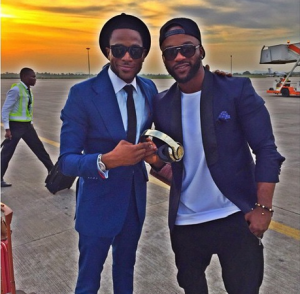 That Oladapo 'Dbanj' Oyebanjo's music career took a dip after his dramatic breakup with former co-owner of Mo'Hits Records, Don Jazzy, is common knowledge.
Though after a few conscious tweaks, sober reflection and rebranding, he somehow bounced back with a few hit songs which barely withstood the healthy competition there is among new generation artistes.
Recently, while responding to a fan on social media who advised that he should emulate Don Jazzy, by taking a break from doing music and become a godfather and mentor to budding artistes, the self acclaimed Koko Master, retorted that people should always educate themselves with facts before storming his social media page to attack or advise him.
"You clearly have no idea what I'm about; what cream platform and my movement are about, yet you feel the need to air an unsolicited opinion. So keep quiet son, educate yourself with facts before you stray to my page and exhibit your pile ineptitude. I'm not as thirsty as you are to impose my thoughts on others.
Maybe one day when you become that 'great king' you hope to be I would pay for your counsel if it comes with wisdom and well sought knowledge. But till then, my brother, take several seats back and crawl into your hole because you're saying trash", Dbanj retorted.