Barrister Mutiu Agboke is the Oyo State Resident Electoral Commissioner (REC) of the Independent National Electoral Commission (INEC).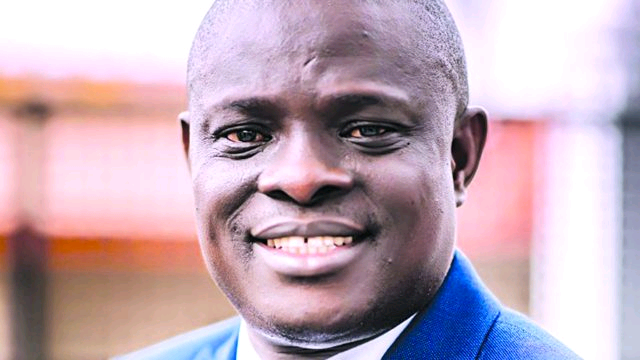 In this interview, Agboke said any Commission's official who flouts the oath of office would be dealt with accordingly. He also stressed the importance of technology in delivering the Commission's mandate, calling for the support of all Nigerians to succeed in ensuring credible polls to Nigeria. What is the progress with the Continuous Voter Card register?
Why local government polls are won by ruling parties
People are eager to register because INEC facilitates the process for the registrants. So, it is very easy for them. The online registration now is over 50,000 in Oyo State with over 20,000 who have completed the registration by coming to our office for biometric.
I'm referring to the number of those who have gone online to register. When you go online to register, it is an incomplete process until you come to various centres to complete it. Across 33 local government areas in Oyo State, people have been coming for registration. In fact, a lot of people have been transferring their voting power from one polling unit to the other, bearing in mind that we just increased the number of polling units in the state. In total, we have over 6,390 polling units and there are 2,939,571 registered voters.
What efforts are you making to ensure that uncollected PVCs are picked up by the owners?
Nothing that can do the magic other than for us to ensure that there is a high level of public advocacy in terms of engagement with major stakeholders, making sure that political parties who are major stakeholders are not only running around to campaign but also persuade and encourage voters to collect their PVCs.
Two, we have engaged various media platforms, we have gone to radio and television stations that can help disseminate the message. We have gone to various religious organisations, We have been to NASFAT to talk to Moslems. We're going to meet with Christians very soon. We've met members of the state House of Assembly to tell them that they cannot just be there and be talking governance. We let them know that their constituents must also be carried along and be properly educated to collect their PVCs.
I've met the Governor, perhaps, to discuss if we can get one or two days off for people to be able to register and collect their PVCs. This is because a lot of people don't know what is going on.
Not only that, for those people who use technology, we have opened a portal and in the portal, there is a kind of page that will indicate the location of PVC. It will just ask you certain information to know the exact location of your PVC. These are things INEC is doing and we will continue to talk about them.
Will you say INEC has the infrastructure to go digital completely?
We don't have infrastructure and all facilities like developed countries, there are issues surrounding electronic voting patterns. The important thing for INEC is to continue to develop and improve year in, year out. If you see the documents we have produced, we have a Strategy Plan and Strategy Programme of Action. These two documents define and spell out the kind of activities we want to do and how we want to carry them out. If you look at it, technology is the fulcrum of the activity of the Commission.
In other words, we want to use technology to deepen our election process. There is no way INEC will want to shy away from using technology. Of course, we may not have 100 per cent arrangements for it but we must start from somewhere.
In 2011, we started gradually from PVCs and to Smart Card Reader (SCR) and if the legal framework emerges, the commission is ready to use technology for people to actually cast their ballots. When Nigerians cast their ballot by electronic devices, it will reduce a lot of things. It will minimise the volume of papers we move from one state to other, it will also reduce the tendency for anyone to hijack election materials. It will also reduce the tendency for electioneering shenanigans, but we must not wait till we have everything in place. It is work-in-progress and the Commission is poised for that.
If your opinion is sought on the reform of the electoral process, what will be your suggestion?
We have always been saying that INEC should be allowed or given the necessary support. I mean all Nigerians should see INEC as an agency of government that has a distinct statutory responsibility; all of us, including the media must support the commission. For example, whenever there are issues in the Commission, the media can summon the courage to come to us and verify the information. If you look at our documents  – the Strategy Plan and Strategy Programme and Action, there are fundamental provisions there that the Commission shall engage the media consistently. In other words, INEC has a policy document on communication matters.
Two, let there be a positive solid regime on legal framework that will enhance or aid the activities, ideas or policies of INEC, such that when we have the framework, by the time we carry out our mandate, our independence will be reflected in what we do. There won't be any doubt concerning our independence.
The third thing is; let there be proper education to our stakeholders, particularly political parties. Some of our political parties do not understand the concept of the party system. It's only when there is going to be election you see some of them running from pillar to post, it should not be so.
Again, If you look at the Constitution, the mandate and what INEC stands for is clearly stated there. Whatever that will come in terms of law and policies should be in line with that mandate. It should not an extraneous matter.
You held a national validation retreat recently, what are the takeaways from the programme?
The first takeaway is that INEC job or activities should not be limited or known to INEC staff alone. Every member of the public should be part of what we are doing. Secondly, INEC has timelines for our activities; members of the public must follow what we are doing. For example, some of the political parties don't want to follow the timetable of the Commission during elections because they do not want us to know what we are doing and they lack proper election education. Some of them wouldn't submit the names of their candidates on the stipulated deadline. They think that they have discretion. No! They must follow what we are doing and listen to us. If there is vagueness or ambiguity, they should meet the Commission for clarity.
Again, with the validation of the documents, we want our staff to be insulated from various temptations. If you look at it, we have our package for both ad hoc and permanent staff in terms of welfare. So, the treatment we give our staff is not the same thing they are offered in other departments or any other ministry.
And very importantly, there must be continuous engagement with stakeholders on the policy of INEC. The media must report what we are doing properly and avoid misrepresentation.
There are reports that some INEC officials do compromise during elections.  What are the measures put in place to curb the malfeasance?
Compromising is just being blown out of proportion, INEC is not the only agency suffering from or witnessing this kind of experience. Any employee of government must ensure that he or she carries out his or her statutory mandate without seeking inducement and monetary consideration.
However, the nature of INEC job is like that of a Judge. You may not know, ordinary security operatives in INEC office can make or mar the process, so, we do a lot of things to ensure that our staff don't compromise. For instance, in the forthcoming Anambra State election, we have released a portal for the recruitment of all levels of staff – ad hoc staff, Presiding Officers, Assistant Presiding Officer, Collation Officers, Returning Officers. When they fill and submit their application, we ask the security agency to screen them before they take the oath of office.
We will also ensure that we train them to make them commit to the work they want to do. But you know what? No matter the level of arrangement we put in place, the child of perdition will always want to showcase as a child of the devil. As a Commission, our own is to ensure that we put out necessary measures; it is not just our staff on the field, but others, including National Commissioners and Resident Electoral Commissioners.
I've seen in this country where electoral commissioners were threatened, harassed and intimidated all because they refused to do certain things in the interest of some people. So, it is a matter of instilling sound discipline in the consciousness in our staff so that the right thing will be done.
Is there any punitive measure in place for erring staff? 
Any staff that works against the oath he or she has taken will be dismissed. You are here in this country; at a time the Commission dismissed over 200 staff. If anybody goes against or flouts our regulations, it will be taken to the headquarters and be dealt with accordingly.
Some Nigerians seem to have lost confidence in INEC to conduct credible elections. What is your take on this?
That was the perception of the old and I said that with high sense of modesty.
We didn't start like this in 1999; it was not like this, in 2003 and in 2007.
In fact, the President then came out to say that the election that brought him in to power was not credible. The 2007 poll was not like that of 1999.
We started in 1999 with an experimental election. Look at it, from that 2007, improvement started. Now we are going to 2023.
Local government elections conducted by state-owned electoral bodies are mostly won by the ruling parties. Some are calling on INEC to conduct council polls. What is your take on this?
It's due to ignorance; let me tell you the way it works. The ruling party is the ruling party; it is the one to conduct the election. Why? In the constitution of the members of the state electoral body, the law says the governor shall appoint the chairman and members of that Commission.
The perception is that Mr. Governor appointed the chairman; therefore, he is not going to do the right thing, that perception should be corrected. Can we say because Mr. President appointed me and appointed the INEC Chairman, therefore Mr. chairman or myself will ensure that if Mr. A wins the election, I will now give it to Mr. B? That perception should be corrected.
During elections that you have monitored as a journalist, how many opposition parties have you seen actively participating in the build-up to the local government election? I was a member of the Ogun State Independent Electoral Commission from 2012 to 2017 and I conducted two local government elections. In 2012, I went out to inform political parties to come and participate, telling them that they would be allowed to participate freely. Twenty-eight of them came out, I was very happy when they came and believing that they were going to participate. Surprisingly, they only came to put their names on record but when it came to the real action of electioneering activities, they were nowhere to be found.  Before I knew it, I realised that of the 22 of that eventually participated; a lot of them were even supporting the ruling party.
So, if the election is held under that situation where other parties refused to participate actively, can we now award votes for them to give the poll credibility despite their non-participation? I said No.
When we conducted the second election in 2016, 14 political parties showed up and the one that appeared stronger among them had crises. Members of the party were fighting one another and even supporting candidates of the ruling party. The issue is that opposition parties should continue to be opposition in the right sense of opposition politics. Election is supposed to be for everybody but how many political parties are relevant before the election?  So, for me, there is no aberration and as it stands now, the law is the way it is.
For INEC to conduct the local election, we are not interested. However, if there's a law that gives INEC the power to conduct it, we don't have an option but to abide by it. But for INEC to advocate for it, it will never happen.
Support InfoStride News' Credible Journalism: Only credible journalism can guarantee a fair, accountable and transparent society, including democracy and government. It involves a lot of efforts and money. We need your support. Click here to Donate