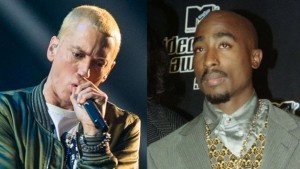 "If somebody decides to, they really want to get out in the street, I'll meet them in the street"
Joe Budden has denied that he'll be coming out of retirement to rap on a song in response to Eminem's diss track n new album 'Kamikaze'.
The rap veteran and podcast host was among the many figures that Marshall Mathers took aim at on the record via a number of 'diss tracks'. Budden came under fire on 'The Ringer' and 'Fall' after previously slammed his track 'Untouchable' as "trash" and "once of the worst songs he's ever heard".
While not responding to Eminem's latest attack through a song, he did take to the air to say that he's "been better than him for the last decade" – before later suggesting that the rapper had 'nothing to say'.
Now in an interview with Hip-Hop-DX, Budden says that he's unlikely to be heading back into the studio to hit back with a verse.
"Yeah, no. I don't think it contradicts my retirement," said Budden. "I wouldn't do it. I wouldn't do it. I wouldn't want to dust off the microphone and get in the studio strictly to respond to two bars.
"I think that would contradict my retirement and all the work that I've done up to this point."
He continued: "I don't feel like anybody really deserves that. When Joe Budden was 'relevant' he just had that passion. Nobody said anything to Joe Budden.
"So today, those same rules apply. When I am under attack now because we are not so irrelevant. I have to seek what the motives are to do that. I'm not just going to the studio to give somebody else the benefit of saying 'Yeah, Joe responded. I'm retired, I mean it."
He added: "And not for two bars is what I'm saying. I'm an MC at heart still. If somebody decides to, they really want to get out in the street, I'll meet them in the street. Would have to inspire me to, it would have to think that in retirement somebody with a passion to actually record music has dwindled. My focus is elsewhere. But if I hear something that gets me out of the bed, inspires me to you know, push the pen harder than I have than I'm all for that. I'm down to be inspired!"