God's will has started already in its fulfilment. We had an election. The ruling party candidate got 37 per cent luckily he won with that. When an election is rigged one would know that It was really rigged.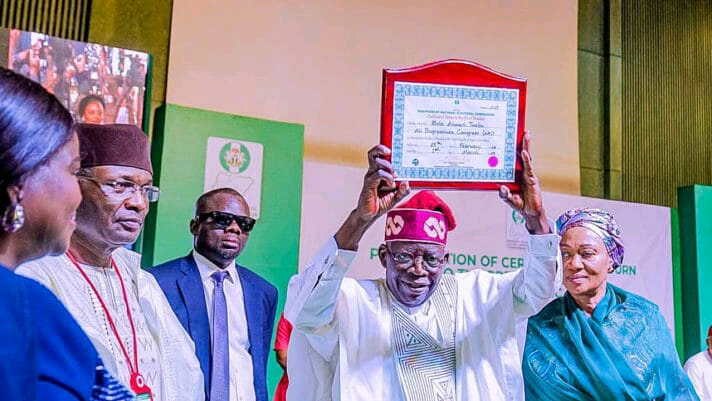 Peter Obi won all his tribal States. Bola Tinubu won five out of 7 states that belong to his tribe. He has more than 21 friends as State governors that are working for him. Each of them is more than Peter Obi in capacity. Obi is not ruling any state as of February 25. He did not even have the support of his state governor.
The problem Tinubu has is that he is a southern Muslim. Muslim/ Muslim ticket would not have arisen suppose Tinubu is a Christian. Picking a Muslim vice president in Muslims dominated north would not have generated any brouhaha. He would have won Plateau State.
I don't see anything special in Obi that would make him beat Tinubu in the All Progressives Congress (APC) control State. Oyedepo would not be on the same page as Obi if Tinubu is a Christian. Lagos election would not be like that if Tinubu is a Christian. With all that, somebody that doesn't have knowledge of Nigeria's voting pattern would say the election was rigged.
Who was Shagari besides Awolowo in every ramification? But he beat Awolowo in all northern states. Nigeria has not really changed. Atiku was programmed to beat Tinubu in all northern states. Leverage of generosity and a strong support base of northern APC Governors worked for Tinubu. Even with all that Katsina, and Kaduna fell to Atiku, Kani fell to Kwakanso and Plateau & Nassarawa fell to Peter Obi.
This is the first time Nigeria will vote for a competent person.
Obasanjo is not a match for Tinubu. Yaradua is not a match for Tinubu. Jonathan is not a match for Tinubu. Buhari is not a match for Tinubu.
There is no executive president that Nigeria has gotten in the past that is as dexterous and competent as Tinubu. You may be seeing corruption. I am seeing competency, exposure, commitment, modernity, innovation, a new dawn, civilization, development, good governance, accountability, a paradigm shift from the old narrative and prosperity
There is nothing you can do for Tinubu. Obasanjo doesn't like him. He cannot do anything about him.
Bode George doesn't like him there is nothing he can do about him.
Ayo Adebanjo doesn't like him there is nothing he can do about him.
All obedients don't like him there is nothing they can do about him.
I, myself used to hate him there is nothing I could do about him.
That was why I changed my mind. The hatred of the powerful could not affect this man.
Obasanjo shifted his base politically to dislodge AD governors in 2003. He succeeded in others. He could not dislodge Tinubu. In 2007, Tinubu planted one of his proteges in the governor's office. He became de facto governor. There is nothing anybody could do about it. When Fashola finished his tenure. He brought another protege Ambode by name- An accountant like himself. I was not happy with the type of treatment Ambode was given by Tinubu but there was nothing I could do about it.
Let me tell you, there is nothing you can do about Tinubu. All you did before the election could not give your candidate victory.
Let me tell you again if you don't know, the Labour Party is a third force. The third force could not get the presidency in its first major attempt anywhere in the globe. Go and check the history of the third force in America. You are following Obi and you think he could just get the presidency like that. If it was easy like that, Awolowo would have gotten it. Donald Duke would have gotten it. Peter Odili would have gotten it.
If you hear power belongs to the people, listen very well to such a statement.
In terms of population, voting awareness and politics generally, northerners are ahead of Southerners. Awolowo knew that but the method he used did not work.
Abiola knew that his method of handling them worked. But the annulment of his victory did not allow him to enjoy the benefits of his victory.
Tinubu understudied Awolowo and Abiola. He needed the money like Abiola and the wisdom and courage of Awolowo. He created money spinning system in Lagos to prosecute his political vision through his knowledge of accounting and political economy. He combined the sagacity of Awolowo and the cowrie of Abiola.
Go and google it, the most corrupt politician in Nigeria cannot be Tinubu. He had never operated at the federal level. No court, as far as I know, has ever indicted him of any financial misappropriation or embezzlement. His victory in the recently conducted election is a product of long planning, projection, high-level scheming and sophisticated horse-trading. The simple would not understand this. They would be calling it rigging. It takes an in-depth knowledge of Nigeria's political behaviour. Things don't just happen in Nigeria's political space.
The issue of Jonathan's presidency was a big problem for the North. Their think tanks could not handle it. The death of Yaradua was a big minus to them. Let me tell you, they have reluctantly accepted Tinubu. It is a calculated sacrifice to them. A product of sophisticated horse trading and exchange.
Let me tell you, they don't know Peter Obi. Those who own Nigeria presently don't know him. Even if he is as competent as Awolowo. Unfortunately, he is not as competent as Tinubu talkless of Awolowo. Before they would know him, he needs to consult Obasanjo, Jonathan and Tinubu. Unfortunately, it is belated.
APC lost Lagos, Kaduna, Katsina, Kano, Plateau, Nassarawa, Osun, Delta, Imo, Ebonyi, Enugu, Anambra, Abia, Akwa Ibom, Cross Rivers, Edo, Zamfara, Gombe, Abuja etc as a ruling party. How can they lose in 18 States and Abuja making 25 states as a ruling party and somebody would still be saying they rigged the election?
As poor as the Shagari government was he snatched Oyo State, Kaduna and some other states( it took serious violence and serious resistance for Omoboriowo of NPN not to occupy governor office in Ondo state with all the good performance of Pa Adekunle Ajasin) from the opposition in 1983.
If APC actually rigged this election then they don't know how to rig an election. All Yoruba States should have been rigged for Tinubu. All APC-controlled States: Imo, Ebonyi, Plateau, Kaduna, Kano, Katsina, Zamfara, and others should have been rigged for Tinubu without much ado ( with executive governors in charge).
Tinubu as the candidate of the ruling party should have scored 14 million votes. Other candidates should have shared the remaining 11 million. But Buhari as he claimed on the day of his inauguration, he was for nobody including his party presidential candidate.
By the grace of God, our president-elect would be sworn in on the 29th of May 2023. That is how it always is. Mark my words, nothing inimical would happen to Tinubu. He has been destined to rule Nigeria. He has been accepted to the Class of the Great. I have seen it. The problem I was envisaging,( betrayal from the north) he has overcome it.
Tinubu would not die, you and I would not die. We will all fulfil our God's given destiny by His grace.
Credit: Wale Aderibigbe writes from Learning Embassy Int'l".
Support InfoStride News' Credible Journalism: Only credible journalism can guarantee a fair, accountable and transparent society, including democracy and government. It involves a lot of efforts and money. We need your support. Click here to Donate