To the Glory of our Almighty God, 23rd May 2021 marks my 29th Wedding Anniversary with the former Miss Ada Chioma Henrietta Nwaorgu.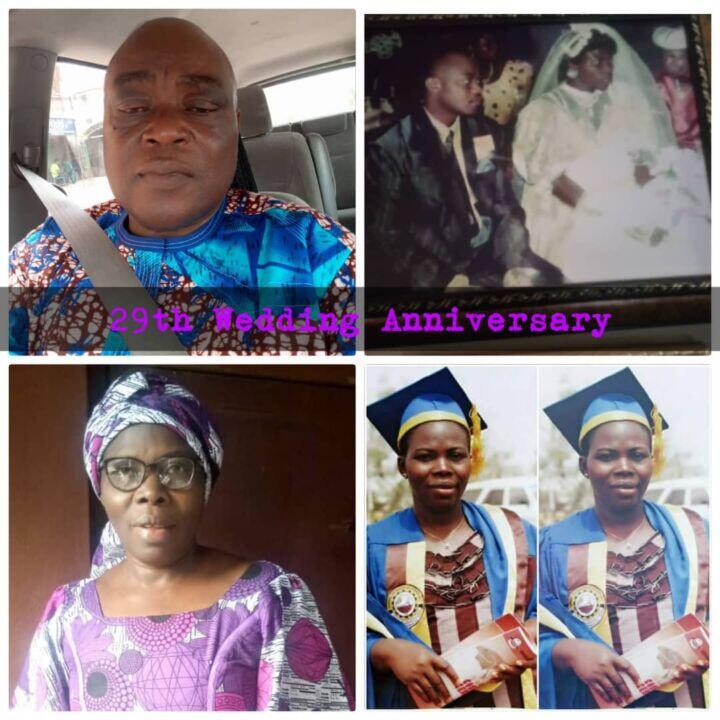 A journey that started in the University of Calabar (UNICAL) where we were undergraduates in 1987 that led to our formal wedding at St Theresa Catholic Church in Yola, Adamawa State on May 23rd, 1992 under the then Rev Father Ignatius Kaigama the present Arch Bishop of Abuja Catholic Diocese and President of Catholic Bishops in Nigeria.
To the glory of God, our union has produced six beautiful children, five graduates and one undergraduate.
When I reflect on how I met this lady who accepted me as a husband even as a student with a very poor background with nobody in mind to assist me, I look at her as the craziest lady ever on this earth
Our Journey
Based on my relationship with this great daughter of God, I have since come to understand and appreciate what Proverbs 22:18 says, "Whosoever findeth a wife findeth a good thing and obtaineth favour of the Lord."
Every wise woman buildeth her house, according to Proverbs 14 verse 1. It is based on this singular fact considering how this passage of the bible tallies with the vision of Mrs Evang. Ada Chioma Henrietta Eze, who toils daily to build her house from nothing to what it is today, that I hereby decorate this inspiring woman whose life is totally dedicated and committed to building her home. She has become a model to many Christian families in all aspects of what a God-fearing family should be.
Mrs Ada Chioma Henrietta Eze
Mrs Ada Chioma Eze, formerly Miss Henrietta Nwaorgu of Ngor-Okpala in Imo State. She is the third child of late Pa Paulinus Nwaorgu and late Mrs Celine Ada Nwaorgu of nine children with renowned Physician, Prof. O.G.B. Nwaorgu of ENT Department, UCH Ibadan, and Romanus Nwaorgu, a retired senior Customs Officer as brothers amongst others. She started her educational career at Umuodage Ntu Primary School from 1970 to 1976 and thereafter attended Amala/Ntu Secondary School from 1976 to 1981. Both schools are located in Ngor Nkpala Local Government Area of Imo State.
From 1981 to 1983 Ada attended the famous Federal Government Girls College (FGGC), Owerri, where she did her Higher School Certificate, which qualified her for direct entry admission in the famous Alvan Ikoku College of Education, Owerri, and the University of Calabar in 1985. She however preferred the University of Calabar, where she read History and graduated in 1988. Mrs Eze did the compulsory National Youth Service (NYSC) with the Ministry of Sports in Rivers State. In 2006, this Amazon obtained her Master's in Public Administration (MPA) degree from the Federal University of Technology, Yola, Adamawa State.
How I Met Her
Though married to this wonderful lady for 29 years now, writing about her gives me so much joy and happiness that only God can give. I met her as a student in UNICAL in 1985 and it was sports that brought us closer. We have been lovers till date and it never surprised many of our schoolmates that we ended up as husband and wife.
I was the Faculty of Arts Sports Coordinator in 1986 and it happened that we were in the same Faculty. Impressed with her outstanding interest and performance in sports, I called her to assist me to coordinate the female athletes as it would be difficult for me to be visiting the female hostels to ask them to come out for training and participation in the games. At the end of that year's Inter-Faculty Games, the Faculty of Arts came tops; while she was the most outstanding female athlete. I was declared the Best Sports Coordinator that year, which made me to be elected unopposed as the Director of Sports during the Students Union Government (SUG) election of 1986.
Her Impact in My Life So Far
With the help of this true gift from God, I was able to manage the UNICAL Football Team to become the champions of the maiden edition of the NFA/Pepsi Cola Football Tournament amongst Higher Institutions in Nigeria in 1987. As a result of that feat, I was awarded a scholarship with the rest of the players to complete my education in the university.
In 1987, Ada assisted me to organise the first Sports Honours Nite ever in UNICAL where prominent sports sponsors like Alhaji G.NA. Hamza, Chief M.K.O Abiola and Chief Emmanuel Iwanyanwu were honoured.
On completion of her youth service in Port Harcourt in 1989, she joined me in Yola, where I was posted for the same exercise. Again, this angel assisted me to become the Most Outstanding Corps Member in the State and the first Corps Member in Nigeria to have served the nation without receiving the normal allowances paid to NYSC members, as I donated mine for the development of my host community.
We stayed back in Yola after the youth service and by the grace of God were able to complete the traditional marriage rites of her people. We were thereafter formally wedded by the then Rev. Ignatius Kagama (now Bishop Kagama in charge of Abuja Diocese of the Catholic Church) at St. Theresa Cathedral, Yola, on 23rd May 1992.
With her assistance, we established a sports company, Eze Continental Sports Ltd., through which we donated several cups for competitions and made our names household in the entire Adamawa State. Regrettably, after several years in Yola, we were forced to leave and return to the South about eight years ago due to the menace of Boko Haram insurgents. Today, we are blessed with six wonderful kids, five undergraduates and one as an undergraduate.
Mrs Ada C.H. Eze was born under the Virgo Astrology sign of August 23 – September 22. When I wanted to write on this wonderful woman, I looked through her Horoscope star and it seems that those that drafted it had her in mind: "Analytical. Observant, Helpful, Reliable and Precise." These are truly the characteristics of this epitome of true womanhood. Read through the Virgo Sign and you will be reading about Mrs Ada Eze.
More Facts about Mrs Ada Eze
If you are not satisfied with the Virgo Signs, then read Proverbs Chapter 31 verses 10 to 31 and you would have seen Mrs Ada Eze in her true nature.
All these verses have one thing or the other to express about this woman that I have prayed to God to allow me to marry again and again if there is anything like reincarnation. I wonder what would be my fate in this world if not for the part this special gift to me has played in my life.
Conclusion
Ada Eze Snr is my best friend, my mother, my wife, pillar of my life, and after Almighty God, the power behind whatever I am today: I truly love her from the depths of my heart and will do till eternity. She is one in a million and deserves nothing less.
I will for the rest of my life with the help of God continue to love her for bringing sunshine into my life and family. She is the tool that God used to uplift me to my present status and I will always be grateful to God and her parents, siblings who accepted me when I was nobody and made this union possible.
As we continue in this journey we ask you our friends, brethren and associates for your prayers. God bless you all and thanks to all that have helped us one way or the other in making this union a huge success.
---
Eze Chukwuemeka Eze is a Media Consultant based in Port Harcourt.
Support InfoStride News' Credible Journalism: Only credible journalism can guarantee a fair, accountable and transparent society, including democracy and government. It involves a lot of efforts and money. We need your support. Click here to Donate