"Having contested and won all seven elections in addition to being a minister for the country, I strongly believe that Allah (SWT) has been extremely kind to me. I believe not many Nigerians are so lucky and blessed. It is in this light and having reached an advanced age, I wish to formally inform you that I have decided not to contest any election again. For the avoidance of doubt, I will not contest any election at all levels."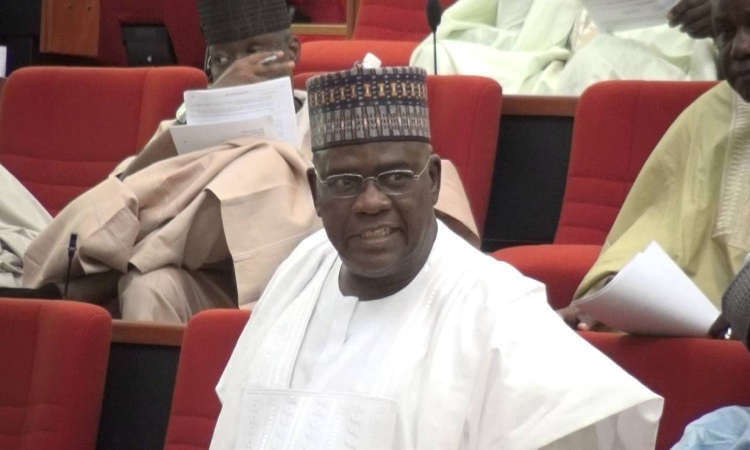 The above statement by Senator Danjuma Goje on December 8, 2019 set the stage for ongoing political debates in Gombe State.
The senator representing Akko and Yamaltu-Deba at the red chamber had reasoned that it was time to give younger politicians opportunity to grow and showcase their talent.
He added that his quitting elective positions didn't mean "I will retire from politics; far from that. I will continue to be active card-carrying member of the APC and participate in all political activities at all levels, except that I will not contest any election."
That confession by Goje at the Pantami stadium in the state capital did not only receive loud ovation by all, it also encouraged prospective aspirants who thought the time had come join the race.
But less than a year and a half after, his foot soldiers are begging him to get set to run again in 2023 for same senatorial seat. APC stakeholders including the state's former deputy governor, Senator Joshua Lidani, unanimously called Senator Goje to run again because his interventions across the entire North East geopolitical zone, including the critical role he played in the establishment of the North East Development Commission (NEDC), were testimonies of good representation. Lidani practically pleaded with Goje to heed the calls of the people.
Also, the chairman of Akko local government, Alhaji Abubakar Barambu was quoted saying: "Our people at the grassroots have mandated me to announce their endorsement of Senator Goje to continue to represent them in Gombe Central in 2023. If he is tired, we are not tired of his representation."
Aishatu Jibril Dukku, member, House of Representatives noted that Goje has contributed immensely to the development of Gombe State, North-East and the country at large, urging him not to quit active politics in 2023.
However, the camp of Governor Muhammadu Inuwa Yahaya is not too comfortable with this development.
This is because Goje's continued presence in the political scene will alter Yahaya's plans at the expiration of his two terms as governor.
That has prompted some politicians to dissociate themselves from the endorsement they initially gave to Goje to contest the Gombe central senatorial seat come 2023.
In a release, a group said those who endorsed Goje didn't speak for the people of Gombe Central. They said the people of Gombe Central actually yearn for another representative in 2023.
It was learnt that the decision to announce the rejection of Goje was a device to embarrass some politicians especially the member representing the constituency at the National Assembly, Alhaji Usman Bello Kumo, a former godson of the Senator and a chieftain of the ruling party now seeking to replace Goje in 2023.
A source said: "All these 'stakeholders' are the one creating the tension you talk about; they are not helping the party because APC in Gombe will only remain in power only if united.
"If the party is divided, the PDP is waiting to punish us out at the general election in 2023. Goje I am sure is not fighting Kumo.
"For Kumo, it is not wrong for him to show interest in the senatorial seat since Goje said he would not return to the Senate.
"Goje is yet to declare interest and people are fighting needless wars for him and even dragging the governor into the melee," he warned.
To further compound the confusion rocking APC in Gombe, APC Youth Vanguard, during the week issued a 7-day ultimatum to Goje, daring him to make real an alleged plan to quit the party and join the Peoples Democratic Party (PDP).
The group said Goje is "flying kites to seek another term in the Senate."
Like a pack of cards, the one-time robust relationship Goje and Gov Inuwa has turned sour.
Inuwa, considered as a political neophyte by many has thrown caution to the wind, in the manner he lambasts the two former governors Goje and Dankwabo.
The fallout was evident recently when Goje came to the state to attend his grandchild's wedding.
His loyalists got wind of alleged plans by supporters of Inuwa to 'attack' Goje.
In the melee that ensued, five people were reported dead and properties including Sport Utility Vehicles worth several millions of naira were destroyed.
Barely three days after, Goje's daughter in Inuwa's cabinet Hussaina Goje tendered her resignation letter having said before that she couldn't no longer be where her father was abused freely.
As the war rages, many consider the situation as opportunity for PDP to reap the spoils of "war."
The PDP is said to be making frantic moves to woo Senator Goje, who has refused to yield.
Certainly, APC in the state may soon be polarized if timely interventions by relevant authorities in the party are not initiated.Rather than this, the Progressives Governors' forum was in the state last Friday, threatening to investigate and punish the "culprit" of the recent mayhem.
Meanwhile, the governor and his allies are poised to end what they termed "Goje's overbearing political relevance in Gombe" by stopping his re-election in 2023.
According to the commissioner for information and culture, Ishaya Lepes: "Goje is a mere paper- weight politician in Gombe, he attempted it in 2015 when he tried to thwart the ambition of the governor Inuwa Yahaya at the APC primaries, we were resolute and we defeated him.
"When he realised that his game was up, he came and aligned with us, we knew his antics and were never carried away by his eye service, he never meant well for this government," he said.
He added: "we (governor's loyalists) were not happy that he considered Goje's list in his appointment, we asked him but he said 'this man made me a commissioner, I just have to pay him back.'"
An APC chieftain on the side of the Senator, Barambu said the reason for the unending support of people of Gombe Central for Senator Goje is deep-rooted in their appreciation of his efforts to better the lives of the people of the state since he entered into politics, warning those casting aspersion on the former governor to do better than turning the people against Goje in Gombe.
"Our people in the grassroots are immensely grateful to Senator Goje for his efforts over the years in touching their lives. That is why they announced their endorsement for him to continue to represent them in Gombe Central in 2023.
"We are not tired of his representation, so those wishing to step into his shoes can wait much longer than 2023. Senator Goje's importance is beyond Gombe State. His importance cuts across the entire North East geopolitical zone," he urged.
As 2023 beckons, only Goje's sterling and grassroots appeal will bail him out of looming political irrelevance, as few of his loyalists are still in Inuwa's cabinet, preferring to look the other side rather than resign to join their former master.
Goje, a former minister in PDP was said to have carefully wrested power from the ANPP governor Abubakar Habu Hashidu in 2003 and afterwards transformed the state from a glorified local government to its modern status – the shining face of a sovereign state with state-of-the-art infrastructure across all sectors of the economy.
Inuwa's clash with Goje, a man generally referred to as a reservoir of politics, administrative shrewdness and prime mover of human capital development, may end up a miscalculation unless Governor Inuwa slows the pace.
Goje won the peoples' heart because of his astonishing legacies and political triumphs beyond the ordinary.
Goje's intimidating successes rest heavily in his ability to rise from being mere floor member of the Bauchi State House of Assembly to being a senator and later transmuting to a minister, and then eight years as governor and then to a third time senator.
It's on record, that Senator Goje initiated almost all the key infrastructure and other significant projects that adorn the state.
On the list are – the state University, Institute of Transport Technology Kumo, Gombe International Hotel, Gombe Jewel Hotel Abuja and the Gombe International Airport.
Others are: Gombe Township Stadium, Dadin Kowa Water Project, Gombe Central Mosque, Gombe CAN Centre, transformation and upgrading of traditional institutions and lots more among others.
Goje was said to have influenced and facilitated the establishment of the Federal University Kashere and College of Horticulture Dadin Kowa, which not only add to the state's knowledge base, but have also become sources of employment to many Gombe sons and daughters.
Support InfoStride News' Credible Journalism: Only credible journalism can guarantee a fair, accountable and transparent society, including democracy and government. It involves a lot of efforts and money. We need your support. Click here to Donate