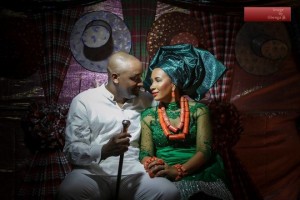 No one knew she craved marriage so eagerly till now, days after her marriage.
The very excited Nollywo0d actress, Ibinabo Fiberesima, now Mrs Ibinabo Egbuka shared how the man – a long-time university friend – she's thrilled to get married to, came into her life in a new interview with ThisDay.
She also narrates the roles played by their kids to make the marriage a dream come true.
Read excerpts below: –
What's the secret behind your beauty?
Wow. I know am blossoming but that is what happens when you are in love. I have found my soul mate, my friend, my brother and that's why I am glowing.
Was it your beauty that attracted him to you?
Yes; my beauty also attracted him to me. But you know I am naturally beautiful, with or without makeup. My husband once said the love he has for me is incomparable. So this is a question for him
not me because I don't know how to explain the feelings he has for me.
How did you feel when you noticed you are crazy about him?
Well, it's not that I suddenly found that love. The love has been there and we have been best of friends since our school days at University of Ibadan and when we met again years after, we remained best of friends. His kids and mine have always been wondering how both of us can be this close, almost like a brother and a sister. I think the kids planned it; they were like why don't you two just get married and we started thinking. After a while, we felt this is God telling us its time and that's it.
How did you respond when he proposed to you?
I knew it was God's will. I just said 'Yes' without thinking about it. Everything was just perfect; the time too was perfect.
Can you share the experience of how he proposed to you?
(Laughs) He is an Igbo man oh! I think the kids planned it more than we did. That's how it is because the day he asked me, my kids were calling. His kids too were calling and they were all abroad while we were in Nigeria. So everybody was eager to know my reply. His kids were like, 'Daddy, have you asked her?' My own kids too were also calling to say, 'Mummy, hope you said yes?' (Laughs.) It was a beautiful moment and everybody was happy.
What drives you crazy about him?
He looks after a woman very well. He adores me and he is a family-oriented person. He loves his family. He loves us totally and he is very committed to his work. He encourages me a lot in what I do and we pray a lot. We have the fear of God which is paramount in our relationship. I think we are heading in the right direction and of course, with my kind of lifestyle and the kind of work I do, every man will withdraw. But no, he is always there, giving me the strength, support and ideas to improve on what I am doing. So, I really do admire him.
What about his physical attributes –is he handsome? Or, is there anything you don't like about him, or there is something about him that puts you off?
Oh my God! Trust me and my taste! He is just a very fantastic guy and he looks good.
Would you say that's why you fell in love with him?
Yes and apart from the fact that we have always been best of friends before marriage came in, he is still who he is.
You have tried to settle down several times in the past, why did the efforts fail?
I believe God wanted a better man for me that is why my past relationships failed. Besides, my previous relationship did not work because I was not patient enough. I tried my best to make it work. I prayed severally and I wept. I even went the extra mile just to make it work, but I never knew God had a better plan for me. I did all I could to have a man I can call my own but God knows best and his reason are unquestionable. Until I found my man, I have never enjoyed my relationships. Marriage to me is supposed to be enjoyed not endured. That is the major reason why I am settling down with someone that understands me properly. My man is very romantic and caring. That is what I asked from God and he gave it to me.
How is your relationship with Fred Amata, the father of your kid?
I can never ignore Fred. He is my daughter's father and a wonderful friend. I will never disrespect him. Even if I am with a man, I must always walk up to him and greet him. Some people wouldn't do that. I have seen people who got separated and divorced and they don't speak to each other in public. I will never do that. Even if we had quarrelled before the event, I would still walk up to him and greet him. He is still my true friend.
Is Fred Amata in support of your marriage?
Yes! Fred is aware of my marriage plans. He is not an enemy. Since marriage did not work out for the two of us. He gave me is support. He is very happy about it and I know he will continue to wish me well because we are still good friends. Fred is my daughter's father. Yes, he knows about my marriage. He supports my marriage.
Will he attend your wedding?
Of course, yes! I have sent an invitation to him and I know he will come. But one thing you must know is that whether he is coming or not, the truth is Ibinabor is finally hooked for life.
So, what is your advice for those ladies that have given up on getting married?
They should place their hope in God. Remember, God's time is the best. No woman should feel the pressure to get married. Marriage should not be by force or a do-or-die affair for any ladies –especially for those considered being over-aged. If your marriage is not working, move on because God has a better plan for you. If you are still searching keep praying to God. One day, he will hear your cry. Marriage is a good thing and good comes to those that believe it. Marriage should not be so much about looking at each other but looking in the same direction together. Always remember the positive things that brought you together and then to concentrate on positive goals to achieve as a couple. Marriage is not always 50/50. Some days you will wake up and may have to give 90 per cent and your spouse will give 10 per cent. Other days you may wake up and give 25 per cent and your husband will have to put in the 75 per cent. If you want to keep your marriage long-lasting and successful, be flexible in your attitudes. You should be willing to create balance in your life, and be open to change. My observation is that all the cute, unique things that made your spouse wonderful in the beginning are going to be the things that get on your nerves later. Try to focus on the positive. If you look for negative qualities in someone you are sure to find them.
Support InfoStride News' Credible Journalism: Only credible journalism can guarantee a fair, accountable and transparent society, including democracy and government. It involves a lot of efforts and money. We need your support. Click here to Donate