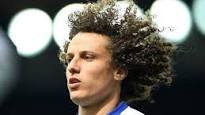 Chelsea defender David Luiz admits he took a risk leaving Paris St Germain to come 'home' but as he prepares for the FA Cup final, having already won the Premier League, it's a gamble which he believes has reaped dividends.
The 30-year-old Brazilian was a firm favourite in Paris, an established and respected part of a successful team which won back-to-back domestic 'trebles' during his two-year stay in the French capital.
That's a contrast to his first spell at Chelsea when he was heavily criticised by television pundits for the poor quality of his defending — despite eventually being sold for a world record fee of £50million for a defender.
So, it's easy to question why he answered a call just ahead of the 2016/17 campaign to return to Stamford Bridge to a side managed by Antonio Conte who had been tasked with restoring morale after a turbulent season prior to that when they had gone from champions to finishing 10th.
His return, was hardly greeted with celebrations either — certainly not outside of Stamford Bridge — and instead described as a panic buy by the home media.
So Luiz can understand why many people wondered if he had made a mistake.
"I was winning in Paris. I went to Paris for two years and won all the titles in France and I had a great life," he told journalists at the club Open Day head of Saturday's final against London rivals Arsenal.
"So I have everything in Paris and then I took a risk to come back in one country that was not that happy with me.
"They always criticise me a lot even with the Champions League, Europa League, and playing all the games.
"So that's why it was a risk. And I love the risk. If you never take risks in your life you never feel something new.
"So I taste something new and I like it.
"I don't like to stay always with the easy life — so that's why I took the risk and today I am very happy."