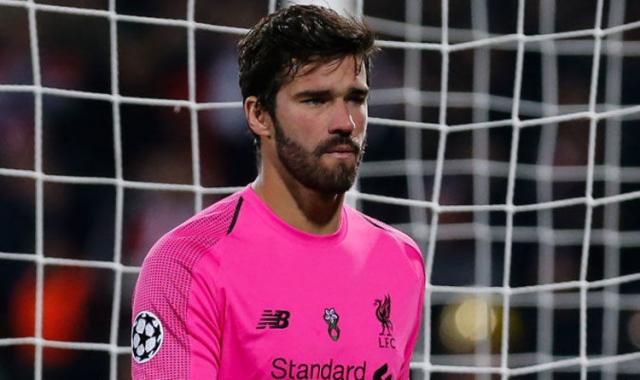 Liverpool goalkeeper, Allison has come out to say that his quick recovery from injury is all thanks to the club's doctors.
He recently revealed that he is happy to be back in few weeks after thinking he would be out for a month.
According to him, he and the medical staffs did everything possible to get his full fitness back and he is pleased to be available again to help the team.
He added that it was very bad to not be involved in football matches but he knows injuries is part of the job.
His words, "It's good to be back. I'm really happy. I try to give my best and I have the top physios on my side, helping me to accelerate the recovery process,"
"As soon as the doctor told me it was four to six weeks, I told him 'no doc, we go to two or three weeks maximum!'
"He agreed with me, and then we just went for it. I'm really happy to be back, and I want to thank the physios, the fitness staff, the doctors and the goalie coaches who helped me on this process.
"It's bad not being involved in a football game. It's the worst thing for a player, but it's part of the job, injuries. We try to avoid them, but sometimes they happen. I'm glad it was only three weeks, but it was a long three weeks, more like three months!
"Being not involved is always hard, not only Atletico [Madrid] or Aston Villa. You want to help, you want to do what you love to do, help your teammates go for our goals."
"I pray a lot! Seriously! But I also did a lot of sessions. I was in every day for five, six hours with the physios having treatment and working with the fitness department, and after two weeks I could do some catches with the goalie coaches."
"Then after two and a half weeks I started to dive, and three days before the [Sheff Utd] match I could work hard, do some hard shooting and catches, full-range diving.
"So on Friday I gave the green light to the boss. I believe in my faith, and working hard helped me in this fast recovery."