Despite the NotTooYoungToRun (NTYTR) law of 2018, Nigeria's political space is still overtly dominated by the old generation and god-fathers, who determine who gets what and favour their cronies to the detriment of many young Nigerians that are willing to participate in politics.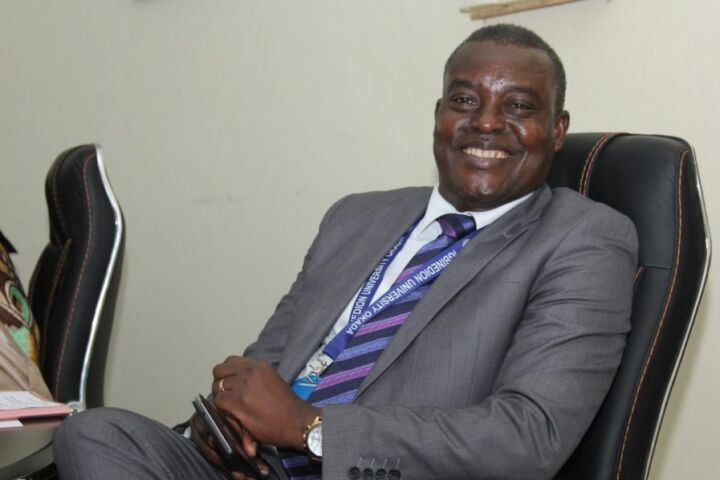 The Age Reduction Bill popularly known as NotTooYoungToRun is a constitutional amendment movement led by young Nigerians. The bill was conceived and pushed by several civil society groups including YIAGA Africa in May 2016.
The group is headed by Samson Itodo, a human rights activist and good governance campaigner. The bill, which was sponsored in the House of Representatives by Tony Nwulu and in the Senate by Abdul Aziz Nyako, sought for alteration in sections 65, 106, 131, 177 of the Constitution of Nigeria, which was to reduce the age of people running for elective positions to House of Assembly and House of Representatives from 30 to 25 years old, senate and governorship from 35 to 30 years old and office of president from 40 to 30 and to allow independent candidates to run for elections.
On April 20, 2018, promoters of the bill met with Vice President Yemi Osinbajo to advocate for the Presidency to assent to the bill. After approval, the movement demanded the All Progressives Congress (APC) reduce its nomination form fee, which was N55m and it was reduced to N45m. But the movement is still seeking further reduction of the fee to encourage the involvement of youths in politics.
From the documentation done by YIAGA Africa (2019), following the 2019 general elections, after the age limitation amendment had been carried through in 2018, it shows that youth participation in those elections rose to 34.2 per cent, as against 21 per cent in 2015.
Also, 13.5 per cent of candidates vied for Senate and 27.4 per cent for House of Representatives. In addition, whereas only 6.8 per cent of members-elect in the House of Representatives were youths, 22 out of the 68 of them were beneficiaries of NTYTR Act in the states House of Assembly.
The need to enhance the political participation of youths especially in the formal spaces ahead of the 2023 general election cannot, therefore, be overemphasised. Many are of the opinion that youths need to become more involved in political parties, parliament, political appointments, elections and civic spaces as a matter of right (rather than of benevolence as it is sometimes suggested) and as part of the solution rather than a problem to be resolved by others.
In 1996, the United Nations General Assembly adopted World Programme for Youth to the Year 2000 and beyond (which was further reaffirmed by UNGA resolutions in 2003 and 2011) that prioritises full and effective participation of youth in the life of society and in decision-making. The challenge, however, is how to institutionalise youth participation in effective and meaningful ways and not just as token gestures.
To further deliberate and strategise on how to solve these issues, Konrad Adenauer Stiftung (KAS) in partnership with National Institute for Legislative and Democratic Studies (NILDS) organised a 2-Day national retreat for Young Parliamentarians Forum (YPF) of the National Assembly, tagged: 'Youth Alliance- Towards 2023 General Elections.'
The event had in attendance parliamentarians in the range of 40 years in the National Assembly and states House of Assembly. Resident Representative of KAS, Dr. Vladimir Kreck bemoaned that despite a huge population of young Nigerians in the Senate, House of Representatives, and states House of Assembly there are very few young people representing the interest of their peers.
Dr. Kreck noted that there is a lot of disappointment among young people in Nigeria, given that many of them don't have a chance to enter political space to make a difference.
He said, "One argument that came up here, is how can parties contribute to give young people better opportunities to participate in politics? I think parties in Nigeria need to develop stronger and independent youth wings that might even contest the opinions of established beliefs.
"Money politics is definitely a major factor in Nigeria when it comes to elections and appointments. I believe political parties need to find ways to reduce these obstacles for young people. I'm not saying that majority of parliamentarians or political appointees are supposed to become young people in Nigeria, but at least to some extent, to open up avenues for young people to also participate and have a voice in political decision making that would help the country and also interest the young people to join politics."
As the branch of government responsible for making laws for the order, good governance and wellbeing of citizens, Parliament has been identified by the UN and its various agencies and several civil society groups including youth organisations as a critical player in the mainstreaming of effective political participation by youths.
Director-General (DG), NILDS, Abubakar Sulaiman urged the young parliamentarians to facilitate legislations, sensitisation and mobilisation to promote youth involvement in politics and change the narrative that youths are mere thugs, instruments of violence and anarchy.
To him, "Youths should be more involved in partisan politics and political activities. You can't have the notion of taking charge or taking power when you refuse to get yourself involved in politics. If youths actively get themselves involved in political activities and parties and at the various levels they are more active, their voices would be heard, this is because they constitute a majority at every level."
To address the financial obligation in politics, Sulaiman said, "by the time the youths are organised and they form an active political party, even if it's just N10 donation for whatever they need in terms of the requirement for the financing of party activities, in terms of charges, fees, I want to believe they can get it. It happened in other climes and it can happen in Nigeria."
Towards the 2023 general elections, the DG urged young parliamentarians to push for acts, bills that will give youths more opportunities, ease their participation in politics, saying that would give them a level of relief at level of standing for election.
He said, "Many of the youth parliamentarians are below 40, so, if they could achieve it in 2019, what stops them from achieving it again? If youths stand up and are more agitating, more committed they will achieve their dreams.
"How do we help the youths through legislation, how do we promote youths involvement in politics, how do we ease the pain and agony that may come their way when they want to get involved in politics, these are the things their colleagues in the parliament should ponder on.
"The youths should rise legitimately to be part of the ongoing political process, they should shun violence, protest, anarchy, and uprising. They should get involved in partisan politics and with their population and education I want to believe the sky is the starting point."
A young parliamentarian and member of the House of Representatives, Ibrahim Obanikoro agreed on the need to evolve a youths alliance towards 2023.
Obanikoro emphasised the need to mentor youths and get them involved at an early stage, adding, "If you don't join the ruling class, you will be ruled by those in the ruling class and so it's important to be part of it.
"The youths have a chance in 2023 elections and that's why I keep saying that youths need to join political parties now, it's not everybody that will run for office but if you join, you have the opportunity to elect your fellow youths and if the majority of us decides to run for office, be rest assured that whoever is going to flag that party's flag will be a young man. The more we give ourselves options, the more some of us will be in government."
Obanikoro, however, noted that older generation politicians are part of society and they cannot be sidelined totally in the political space, noting that, "Whether we like it or not, our fathers are part of the society and so there has to be room for them and women. Even in government, you can't have all greenhorns, we need experience, and we need stabilisation. It's not everything for youths, the experience of our fathers will come into play, we will learn from them when we join them in government but they should give us a fair share."
On his part, Director-General, Nigerian Institute of International Affairs (NIIA), Professor Eghosa Osaghae stated that civil society is another critical factor that has been identified, but unlike civil society, parliament has the constitutional and statutory authority to intervene and make things happen for the youths.
He said, "The 122nd Assembly of the Inter-Parliamentary Union (IPU) in 2010 passed a resolution to strengthen efforts aimed at achieving appropriate representation and participation of youths in decision-making bodies and called on parliaments to develop practical measures like introduction of quotas to increase representation in Parliament and other representative bodies. The Assembly also encouraged Parliaments to give political and financial support for the formation and functioning of Youth Parliaments and Councils."
He stated that given the fact that parliament stands as a forum where the cause of every constituency can be openly, passionately and even emotionally pleaded, it stressed the point that expression and persuasion could be deployed to foster the course of youths.
Osaghae noted that the idea of Youth Parliament has also gained prominence in several parts of the world as a special agency to passionately plead and defend the cause of young people.
"The German Youth Parliament, which has become an important platform for citizen engagement with Parliamentarians, is a good example here. The Youth Parliamentarians Forum of the National Assembly, as well as the largely perfunctory Youth Parliaments in which, selected children serve as symbolic Governors could very well grow and be strengthened to play similar roles."
He noted that the Parliament also has important oversight functions that can be used to redress imbalances and inappropriate policies in government business even when they do not strictly involve legislation.
He noted that "Debates and resolutions on matters of urgent national importance/attention, public hearings, and investigations are some other instruments that have been used. One other area where Parliament can make a lot of difference is electoral reforms.
"As presently constituted, youths and women are systematically disenfranchised and excluded by factors that range from huge financial burdens on candidates to skewed composition of the electoral commission (why not have youth representatives?), and lack of internal party democracy. These need to be amended to make the electoral process more equitable, free and fair."
Speaking on the role of political parties in harnessing young persons' effective political participation in Nigeria, Special Assistant to the DG NILDS, Jake Dan-Azumi identified barriers to effective youth participation in political parties as lack of engagement, generation conflict, patrimonial culture and authoritarian leadership.
He added lack of capacity building programmes and poor planning on the part of leadership; absence of mechanisms for dialogue and engagement, including party conferences and lack of financial resources and security as drawbacks in youth participation.
Dan-Azumi, therefore, called for a holistic youth strategy for the political party-consistent and systematic to include participation, speaking rights, programmatic and voting power; and the inclusion of youth perspectives in key policies.
He said that "The strategies should guarantee genuine participation and involvement of young people throughout the party's decision-making process and should be as broad as possible.
Founding Executive Director, African Centre for Leadership Strategy and Development, Otive Igbuzor emphasised the need for young persons to be prepared and groomed for leadership.
He lamented that despite recognition that leadership is crucial for the development of organisations and nations and that leaders can be trained, there are very few organisations especially in Africa dedicated to grooming leaders.
Igbuzor said, "But despite this recognition, there is no systematic way for developing young persons for leadership. Young persons are marginalised and excluded from governance and development processes.
"In addition, there is the neglect of youth development, which has made the Nigerian youth unprepared for leadership. It is, therefore, necessary to groom young persons to become leaders. There is a great need for next-generation leaders to change the narrative of leadership and development across the world particularly in Africa."
Director, Growth and Development, Premium Times Center for Investigative Journalism (PTCIJ), Dr. Tobi Oluwatola stated that democracy is about good governance, accountable polity and a transparent process of ensuring an orderly society that delivers on the public good.
"This vision is possible only in the context of effectively communicating the challenges and resolution of democracy building. This includes communicating your work and challenges as the builders of our democracy to young people."
Support InfoStride News' Credible Journalism: Only credible journalism can guarantee a fair, accountable and transparent society, including democracy and government. It involves a lot of efforts and money. We need your support. Click here to Donate