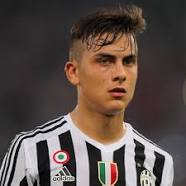 Google Earth does a fine job of describing just where La Joya — the jewel — was first mined. It shows Paulo Dybala's hometown of Laguna Larga, in Argentina, as a grey-white rectangle surrounded by hundreds of green rectangles.
In the aftermath of World War II, Dybala's grandfather Boleslaw was forced to emigrate from Poland to Argentina. The Nazis had occupied his village and taken him away to work for the German Reich, and he struggled to find work when he returned home. His story, eloquently told in this documentary, was of an immigrant, who arrived penniless and slept rough, before falling in love, getting married and building a new life in the New World.
Laguna Larga is farmland — flat, plain, soy- and corn-growing farmland. That, perhaps, ought to blow away the first myth about how all No. 10s are nurtured: They don't all play in inner-city crowded alleys. Likewise, a "helicopter dad" driving you to practice, 40 miles there and 40 miles back, doesn't necessarily mean you'll grow up coddled, spoiled and soft.
That's what Boleslaw's son and Dybala's father, Adolfo, did, from the time his son was 9 and joined the youth academy at Instituto Atletico Central Cordoba, until his death from cancer when Paulo was 15. From having nearly two hours a day of father-son highway conversation, all of a sudden there was nothing.
After Adolfo died, Dybala left Instituto for six months but then returned, vowing to continue his pursuit of a pro career. It was with one key difference, though: no more daily commute from Laguna Larga, even if meant being away from his mother and family. Instead, he was going to live in club housing.
The thought of the familiar daily drive without his dad, Dybala revealed in a 2014 interview, was too much to bear. The solitude in his new surroundings was tough — sometimes he'd lock himself in the bathroom and cry for hours — but, relative to what his father and grandfather endured, it was nothing.
At 17, he made his debut for Instituto in Argentina's second tier. That's when he became known as "La Joya," going on to start every single league game, plus both playoff matches — Instituto narrowly missed out on promotion — and finishing with 17 goals.
In the summer of 2012, Dybala moved to Palermo for €12 million ($15m at the time), quite a fee for a kid who had never played a minute of top-flight football and had never turned out for Argentina at the U17, let alone U20, level. And there was a backstory to his move that was never fully resolved. A portion of his "economic rights" had been earlier sold to a third-party investment fund — third-party ownership was not illegal at the time — and Palermo, in Serie A, seemed like a good place for him to develop.
Initially, though, things were not straightforward, and Dybala's first season in Italy was something of a blur: He started just 11 games and Palermo were relegated. He was also homesick. If the distance from Instituto's club accommodation to Laguna Larga felt huge, you can imagine what more than 5,000 miles felt like. Skype and care packages from home helped a little, but it was a brutal transition. His second campaign was also difficult: Palermo cruised to promotion, but he missed a chunk of the season because of injury.
Boleslaw and Paulo had crossed the same ocean — half a century apart and going in different directions and in different circumstances. One faced the challenge of building a new life, the other of building a career — and helping fulfill a father's dream. Paulo needed to adapt. He was La Joya, sure, but the No. 10 role is something that is earned and one which, increasingly, is hard to pin down in the modern game. He hit the gym; he adapted to different roles.
And the breakthrough came in 2014-15. With Palermo back in Serie A, Dybala and another Argentine forward, Franco Vazquez, formed a quasi-telepathic partnership. Vazquez, an Italian international whose mother was born in the country, was nicknamed El Mudo — the mute — but he was plenty eloquent on the pitch.
Dybala played at center-forward, with Vazquez in behind, and it was spectacular to watch. The pair found each other effortlessly, combining for 23 goals and 20 assists in league play; not bad for a newly promoted side playing almost exclusively on the counter-attack.
Juventus then spent €32m ($34m), rising to €40m ($42.5m), to make made Dybala part of their post-Carlos Tevez-Andrea Pirlo-Arturo Vidal rebuilding process. He was still just 21, and the plan was to develop slowly. But cream does rise to the top, and he collected 19 goals and nine assists during his first season in Turin. When the club accepted that Paul Pogba would move for a world-record fee last summer, the belief was that they would now build around Dybala.
Given that, it surprised some — including yours truly — when Juve signed Gonzalo Higuain for a whopping €90m, even before the Pogba deal was complete. Other than his age, fee and wages, the concern was how Higuain's arrival might affect Dybala. The youngster was Juve's future and had already been shunted all over the attacking front. Wasn't it time to build around him rather than force him to once again adapt to others?
Thus far, Juve have been proved right. Higuain has already scored 27 goals in all competitions this season. That part, perhaps, wasn't surprising. But it's the way Dybala has adapted that has been remarkable. He has played out wide, alongside his fellow countryman and behind him, all without missing a beat and showing the sort of versatility and tactical intelligence you don't expect from a forward his age.
Dybala's awareness and selflessness continue to astound, when juxtaposed with a guy of his talent. Ordinarily teams adapt to individual talent, not the other way around. He has shown a blue-collar ethic not often associated with No. 10s.
After his two-goal performance vs. Barcelona on Tuesday, superlatives flowed, as did comparisons to Lionel Messi, who happened to be Dybala's idol growing up. Getting carried away helps nobody, so let's leave that to one side. For now, the next step is to have a top side built around him, the way Barcelona is for Messi.
Because, thus far, Dybala has shown adaptability and work rate beyond his years, so you wonder what he can achieve when his teammates adapt to him and not the other way around. Then again, given what he has endured, you somehow feel Dybala doesn't mind being — at once — the grunt and leading light. This is one jewel that is still being hewn and refined.
Support InfoStride News' Credible Journalism: Only credible journalism can guarantee a fair, accountable and transparent society, including democracy and government. It involves a lot of efforts and money. We need your support. Click here to Donate