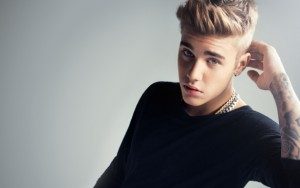 Seems like Justin Bieber is training as a boxer if his latest antics is anything to go by.
The controversial star while arriving for his concert in Barcelona left a fan with a bloodied lip after throwing a punch at him.
In a video shared online, the 22-year-old hit the fan through the open window of his car as he was driven by a chauffeur.
In the video, you can see the excited fan reaching out to touch the singer while the car goes at slow speed, but the Canadian star reacts with a jab that left the male with a split lip.
The man is seen touching his mouth in apparent shock before turning to face the camera and showing his bloodied lip.
Recall the pop star has become a subject of an online backlash after he reportedly walked out of a concert held at the Manchester Arena, United Kingdom.
According to reports, the singer had told the crowd during his Purpose World Tour performance to keep their screams down, but they booed him in response.
According to the Manchester Evening News, Bieber said this to the crowd:
"You can scream as much as you want afterwards but while I'm singing try and stay quiet." Boos from the crowd followed this comment which made the singer walk out of the stage possibly out of frustration.
He later came back to the stage to explain why he wanted to interact with his fans.