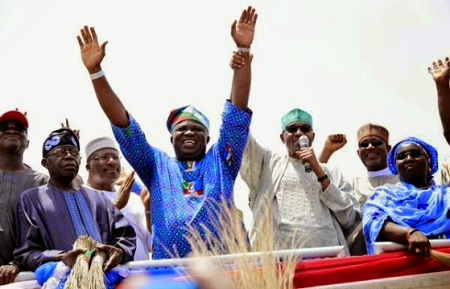 Nigeria's President-elect, Muhammadu Buhari, on Tuesday said that Lagos State is too important for the All Progressives Congress to lose to the opposition.
Mr. Buhari, at the APC rally in Orile area of the state, urged residents to vote en masse for the party's governorship candidate in Lagos State, Akinwunmi Ambode on Saturday.
"Defy all elements, whatever it may be, and vote for APC from top to bottom", he said.
Mr. Buhari told the crowd that Lagos, with its huge investments, could not be toyed with.
"Don't attempt to be on the wrong side of the centre because we are now the centre.
"Tell your neighbours, your relatives and even the opposition party to please bury the hatchet and fall in line and vote for APC", he said.
The President-elect assured the people that they stood to benefit a lot if they voted for the APC.
Mr. Buhari said that he would prioritise investment in Lagos infrastructure, noting that the state is a "mini Nigeria".
"Gov. Babatunde Fashola has told me how much the state has been spending to maintain Federal Government infrastructure, including roads, buildings and other institutions.
"I urge Ambode, who will be the next governor of the state, to harass me sufficiently to honour my undertaking", he said.
He commended the APC's National Leader, Bola Tinubu, for all he had done in terms of mobilising revenue to sustain development in the state.
He also commended Mr. Fashola for his hard work, commitment to the state and to the country.
"I am extremely impressed", he said.
Mr. Tinubu, in his address, also urged Lagos residents to vote wisely in the governorship and House of Assembly elections and not to waste their votes for the opposition.
"As you vote on Saturday, pray that God will not let you waste your vote; a vote for progress is a vote for development," he said.
Mr. Tinubu said that Mr. Ambode was chosen as the party's governorship candidate because he had the brain, character, integrity and ability to do a good job.
"Vote for the man that will give you solid development, happiness, hope and great progress in Lagos and in Nigeria.
"We have a President-elect from the party now, we have gotten victory and we will continue with the progress that Nigeria deserves", Mr. Tinubu said.
He noted that in the last 16 years, the state had been fair to all tribes.
"In 2011, when Jimi Agbaje asked me to give him the governorship ticket, I told him he was not qualified and I told him I was going to support a man of character and sound mind, which is Fashola.
"Since then, Fashola has performed tremendously well and has not been sentimental, especially against the Igbos", he said.
Mr. Fashola also urged residents to vote Mr. Ambode saying that the state must not remain in opposition to the centre.
"We are 5.8 million on the voters register and I will want three million votes for Ambode.
"Put ethnic sentiments aside, there will be no discrimination.
"As your governor, I have defended you every time you have been intimidated without discrimination.
Mr. Fashola said that Mr. Buhari had promised to compensate the state for all federal government assets it had maintained.
"That sign of compensation is already here and I know you won't want to miss it," he said.
Mr. Ambode also solicited support from the people urging them to vote APC as they did on March 28.
"I want to say a big thank you to you all; March 28 was historic for Lagosians, we said we wanted change and we made it possible.
"I urge you to repeat that on Saturday.
"We are united on one cause, we will not discriminate against anyone.
"We are all one, be you Yoruba, Hausa and Igbo; that is how we will remain forever", he said.
Mr. Ambode urged Lagos residents to consider the possibilities they stood to gain with APC being the party at the centre.
Also present at the rally were Governor Rotimi Amaechi of Rivers, Audu Ogbeh, Chris Ngige, and the APC National Chairman, John Oyegun, among others.
(NAN)
Support InfoStride News' Credible Journalism: Only credible journalism can guarantee a fair, accountable and transparent society, including democracy and government. It involves a lot of efforts and money. We need your support. Click here to Donate