The National Agency for Food and Drug Administration and Control has notified the public of having informed by GlaxoSmithKline Pharmaceutical Nigeria Limited on the circulation of falsified Zinnat Suspension a brand of Cefuroxime Axetil Lot Number 349R in retail outlets in Nigeria.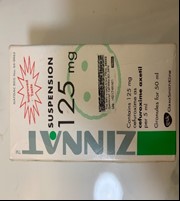 NAFDAC stated that this lot number (349R) has reportedly been used on the genuinely manufactured Zinnat Suspension 125mg/5ml which expired in MAY 2020.
The falsified Zinnat Suspension is 125mg/5ml; manucfactured by Glaxo operations UK Ltd. It's batch number 349R, manufactured in May 2019 and will expire in May 2022.
According to NAFDAC, Glaxo operations UK Ltd has confirmed that the affected falsified Zinnat Suspension 125mg /5ml was not produced by them. Zinnat suspension is used to treat tonsillitis and pharyngitis, acute bacterial otitis media.
NAFDAC has therefore charged distributors, retailers and consumers to be cautious to avoid the distribution, sale and use of the falsified Zinnat Suspension 125mg/5ml.
Also members of the public who has the affected product are advised to discontinue it's sale or use and hand over stock to the nearest NAFDAC office.
In view of the foregoing, NAFDAC has urged healthcare professionals and consumers to report adverse effects related to the use of this product to the nearest NAFDAC office.