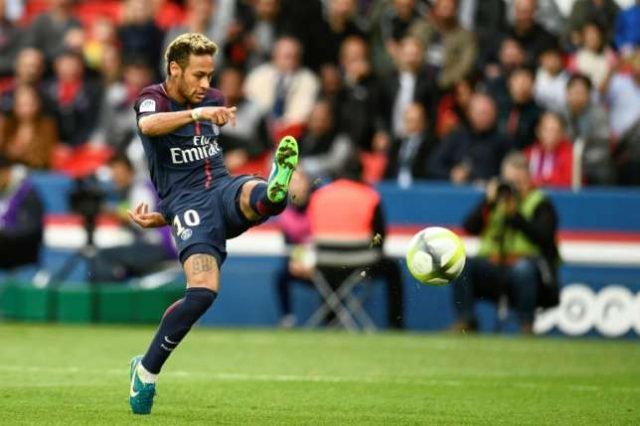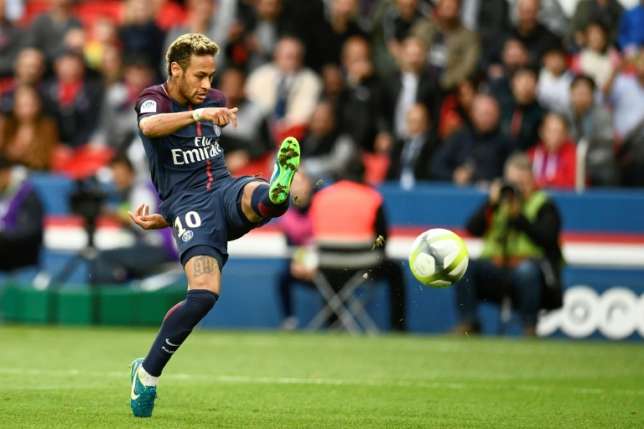 The nature of being Neymar is that he can never, truly deliver the performance that his talent insists he should. Even when he has moments of brilliance, the Paris Saint-Germain forward will let himself down with a touch of carelessness or that overriding desire to make the show all about him.
He was outstanding at times during PSG's 2-1 victory over Liverpool at the Parc des Princes — a win that puts their Champions League qualification hopes firmly in their own hands — but the Brazil international then let himself down with unnecessary showboating and the kind of histrionics that have always been a stain on his game.
Perhaps it is being overly critical of the 26-year-old to focus on the negative parts of his game on a night when he really delivered when it mattered for PSG. After all, the French champions didn't smash the world transfer record by spending £198 million on the former Barcelona forward for him to be the difference against the likes of Montpellier and Nimes in Ligue 1.
Neymar was a statement signing back in the summer of 2017, but it wasn't all about making headlines. PSG signed him to take the club to the next level in the Champions League, but a long-term metatarsal injury put paid to that last season before Real Madrid knocked them out in the round of 16.
At times this season, particularly during the 3-2 defeat at Anfield in September, Neymar has looked a million miles away from being the big man on the big stage for PSG. But on this occasion, Neymar showed us what he can do by scoring one goal and being PSG's inspirational driving force for most of the game.
Most of it.
Once he believed that the game was won, Neymar then switched off and turned into some kind of football version of a Harlem Globetrotter with his tricks and self-centred behaviour, which did nothing for PSG and served only to annoy, even disrespect, his opponents.
Liverpool were already annoyed by Neymar. James Milner, in particular, gave Polish referee Szymon Marciniak a bad bout of earache with his constant complaints about Neymar's conduct and alleged diving. But we are talking about a Brazilian superstar, a player blessed with so much flair and talent that he will obviously want to show it off.
For Neymar to be regarded as the truly great player that his talent deserves, he will sooner or later need to develop the all-round maturity required to earn that respect.
Maybe it is too easy and unchallenging for him in the French league because a player focused solely on his game would not let himself down as Neymar does. But at 26, he is approaching the very peak of his career and with Lionel Messi and Cristiano Ronaldo now in their 30s, Neymar ought to have a cold-eyed determination to be the man who knocks them off the summit of world football.
Kylian Mbappe, his 19-year-old PSG teammate, might beat Neymar to that position, but Neymar really should be at the front of the queue.
Against Liverpool, Neymar showcased just why PSG spent so much to sign him. He displayed pace, strength, vision and the ability to transition PSG from defence to attack in the blink of an eye. He scored one and could have scored a couple more; at times, he even looked as though he was a 15-year-old playing against 10-year-olds. But he switches off too easily. When you watch Neymar, you wonder what he would really be like if he had the focus and drive of Ronaldo, who always wants more whether or not he has already scored a hat trick or wonder goal.
Neymar is simply wired differently. The moment in the second half of this game, when he turned his back on the play to urge the crowd to turn up the volume, was a case in point. While he was throwing his arms in the air, the ball to Neymar from midfield ended up sailing past him and out of play, unseen by the player who was instead looking at the crowd. That just wouldn't happen with Ronaldo or Messi.
Either of those players would have made sure that their team won by an even greater margin, either by scoring themselves or teeing up a teammate to do so. Neymar had chances to do both, but his habit of holding onto the ball for too long ensured that he didn't score again and neither did PSG.
At the end of the game, Neymar had underlined his talent by erasing Kaka from the record books as the highest-scoring Brazilian in Champions League history. Kaka, Ronaldo and Romario, all gloriously talented counterparts, trail in Neymar's wake when it comes to Europe's biggest competition. But when history reflects on those players, they will all be remembered for the great things they achieved.
You get the feeling that, with Neymar, it will all be about what more he could have done. That shouldn't be his story but unless Neymar cuts out the unnecessary stuff, he is danger of that being his legacy.
Support InfoStride News' Credible Journalism: Only credible journalism can guarantee a fair, accountable and transparent society, including democracy and government. It involves a lot of efforts and money. We need your support. Click here to Donate