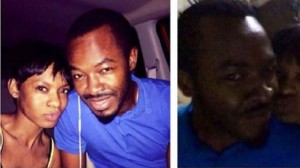 I guess this officially puts an end to all the rumors that the fast rising Nollywood actor — O.C Ukeje, was dating petite singer, Chidinma.
O.C Ukeje is now off the market as he the charming and handsome celebrity will be getting hitched this Saturday November 8, 2014.
The Gidi Up actor got engaged to his sweetheart , Ibukun Togonu earlier this year and the pair will make it official on Saturday at at a private wedding to be held at Youth church hall, Hoares Mem. Methodist Cathedral, 321 Herbert Macaulay st, Sabo, Yaba, Lagos,while the reception will follow atThe Incubator, 7/8 Yusuf Abiodun way, City of David Road, VI, Lagos.
The wedding colors chosen for the wedding are Red & Grey (groom) and Coral & Silver (Bride).
OC Ukeje confirmed that indeed he will be getting married to his longtime boo this weekend "Ibukun & I are gettin married….Pls come celebrate with us….We appreciate your prayers & hope 2see you.".