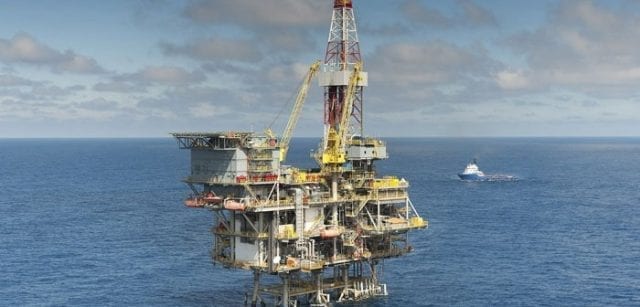 WTI crude oil prices settled this past week just under $50.0, up slightly more than 5% on the week, and up for the second consecutive week after a falling in each of the five preceding weeks. Hurricane Harvey, which, afflicted refineries have been coming back on line, increasing demand for crude, while the IEA this week upped its demand predictions in its monthly report while pointing to a decline in global inventory levels of crude.
Demand for products such as gasoline and diesel have been very strong, and continue to draw exports away from the United States. Rig counts decreased again this past week, while economic growth could be hampered by the combination of Hurricane Harvey and Irma.
Oil Rigs Declined in the Latest Week
According to Baker Hughes, the oil service giant, the total number of oil and gas rig in the United States in the latest week now stands at 936 rigs, up 430 rigs from the year prior. Baker Hughes said that oil rigs in the United States declined by 7 this week and the number of gas rigs decreasing by 1. Additionally, Baker Hughes revealed that in Canada, 10 oil rigs for the week were added. Oil rigs in the United States now number 749, which is an increase of 333 rigs year over year. Although the number of oil rigs are still up significantly, the increases slowed in the Q2, and have reversed in the Q3. The first quarter 2017 saw 137 oil rigs added in the United States, while the second quarter 2017 saw 97 rigs added.
Growth Has Been Effected by the Hurricanes
Atlanta Fed's Q3 GDPNow estimate was slashed to 2.2% from 3.0% previously and compared to a 4.0% initial estimate, as hurricane season begins to undo some of the promising rebound in U.S. growth. Additionally, U.S. August industrial production fell 0.9% with capacity utilization at 76.1%. Those are weaker than expected, but the Federal Reserve said Hurricane Harvey reduced IP by about 0.75%. The 0.2% July production gain was revised up to 0.4%, though June was bumped down to 0.2% from 0.4%. The 76.7% print on July capacity utilization was revised up to 76.9%. Manufacturing production fell 0.3% from July's unchanged, , with motor vehicle and parts bouncing 2.2% from -4.2%.The Fed indicated Harvey mostly impacted petroleum refining, chemicals and plastics production.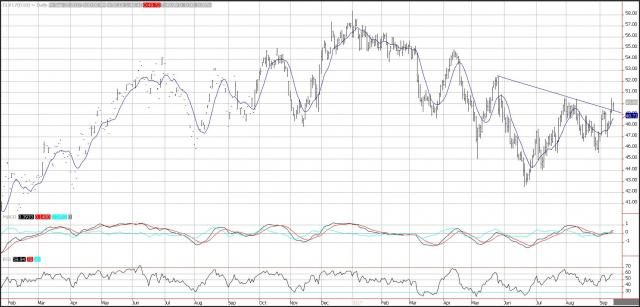 Oil trading volume has been strong as crude oil prices have broken out above trend line resistance and are knocking on the August highs near $50.50. A break of this level would lead to a test of the April highs near $52.50.  Support is seen near former resistance near a downward sloping trend line that connects the highs in May to the highs in August and comes in near $49.50.  Additional support on oil prices is seen near the 10-day moving average at $48.71.  Momentum on crude oil prices has turned positive as the MACD (moving average convergence divergence) index generated a crossover buy signal. This occurs as the spread (the 12-day moving average minus the 26-day moving average) crosses above the 9-day moving average of the spread.