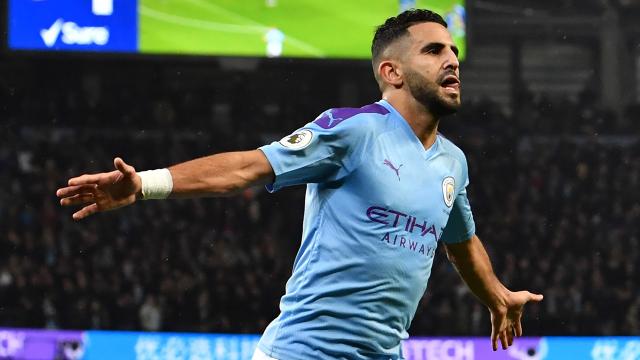 Manchester City forward, Riyad Mahrez has come out to say that AFCON should be held every four years instead of the present two-year format.
The Algerian recently came out to say that his fellow national team players loved Egypt because it was not too hot, but playing the competition every 2 years and in winter will only make people countinue to disrespect African football.
According to him, Marseille was his dream club even if he lived in Paris but the move never materialized because the club had a similar player already.
He added that he liked PSG but his heart club was Marseille.
His words, "Let's make Afcon once every four years and in summer,"
"We loved Egypt, it wasn't too hot. Every two years and in winter, that is why African football is not respected.
"You have a crazy amount of action in your own clubs, then you leave for two months."
On his dream club as a youngster, "I went to test in Marseille,"
"I was very happy because before, my heart's club was Marseille
"I liked PSG, because it's my city but Marseille, I wanted to go there too much.
"I remember, the coach was Franck Passi. Everything was going well, so much so that Jose Anigo [then-Marseille sports director] comes down and tells me that they want me to sign.
"In my head, I was in a movie. I am 18 years old. Eight months before, I was in Sarcelles. He [Anigo] said to me: "How did you come? By train?" I said yes. He said to his secretary, "Get him a plane ticket for tonight." He passed me Marseille jerseys. I came back, I thought I had signed.
"We do not really know the underside, but, three or four days later, he [Angio] calls my agent, and says to him: "We have a player who is the same here, we don't want to get in the way of him, we don't want to put a spanner in the works." The player was [Billel] Omrani [currently in Cluj, Romania]."