A human rights body, the Centre for Human Rights and Social Justice (CHRSJ) has raised a fresh alarm over an alleged forgery scandal levelled against deposed new Alawo of Awo, Mr. Adegboye Taiwo Rasaq, alleging him as a carrier and serial forger.
It would be recalled that the Appeal Court, Akure Judicial Division had earlier nullified the illegal appointment and subsequent installation of Adegboye Taiwo Rasaq as new Alawo by Gboyega Oyetola's Government in September 13th,2021, through its landmark Judgement dated 8th day of August 2022 by stopping Adegboye from wearing any insignia or parading himself as new Alawo henceforth.
CHRSJ disclosed that it discovered new particulars of forgery of Taiwo Adegboye used for his illegal and void selection, appointment, approval and subsequent installation as new Alawo through the documents attached to his Expression of Interest Form Number: 000000114, in respect of Alawo Stool.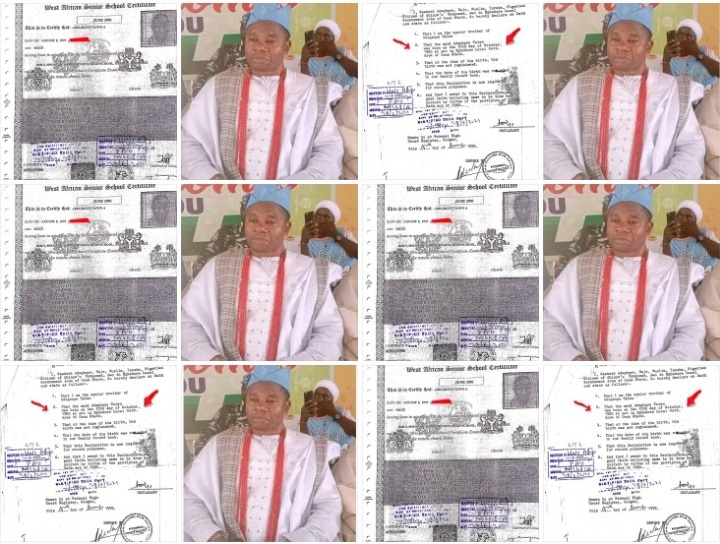 Apart from forgery of election documents with different thumbprint impressions and signatures of the Mogaji/ Head, Alhaji Abdulkareem Adegboye and Secretary, Alhaji (Prince) Abidoye Hamzat Gboyelade/Prince (Alhaji) Hamzat Abidoye/Hamsat Abidoye of Abioye Ruling House/Compound, Awo respectively.
He forged the Selection Minutes of the meeting credited to Abioye Ruling House/Compound, Awo, dated 24th August 2020, in his favour by sitting in the comfort of his room in the year 2020 and writing the Selection Minutes in his own favour because of his position then as Legislative Leader of the All Progressives Congress (APC) controlling Egbedore Local Government, Awo, without minding the legal due process attached to the selection of the new monarch in our legal society.
Saying that Adegboye Taiwo acted Contrary to Section (15) sub-section (5) that, 'The State shall abolish all corrupt practices and abuse of power' and anyone who encourages corruption in any form, deserves no honour.
It added that Adegboye Taiwo claimed different dates of birth in his Affidavit of Declaration of Age dated the 15th day of December 1999, made from the Federal High Court, Osogbo Judicial Division, that he was born on the 10th day of October 1980 and also claimed in his West Africa Examination Senior School Certificate (WAEC-SSCE) of June 2001 with Certificate Number: NGWASSCS2682561, that he was also born on the 8th day of August,1979.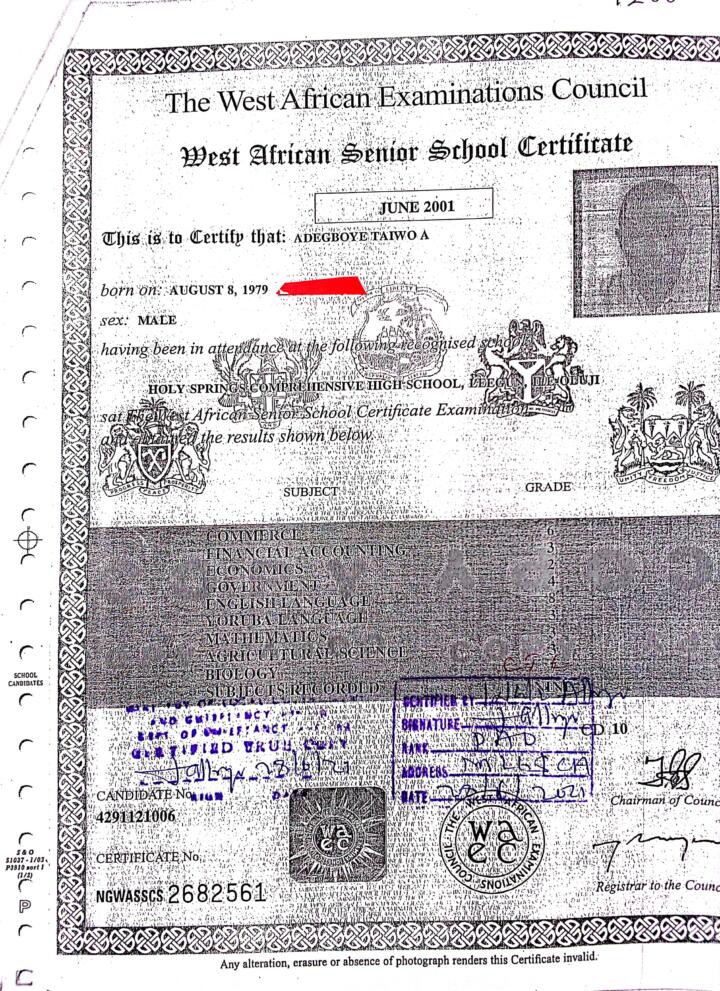 This was contained in a signed Press Statement by the CHRSJ's Assistant General Secretary (AGS), Pastor Michael Agassi and copies were made available to newsmen on Sunday, alleging that Adegboye forged every document relating to his earlier illegal appointment and subsequent installation as new Alawo.
The group also maintained that the names claimed on his Rufus Giwa Polytechnic, Owo's Notification of Results of National Diploma (ND) and Higher National Diploma (HND) obtained on 10th of August,2006 and 14th of November,2008 respectively with National Youth Service Corps Certificate obtained on 19th of November,2009, did not have the bearing of his identity name in the Change of Name deed in Newspaper edition, thereby making it identity theft of Polytechnic Notification of Results and NYSC Certificate of another person in the family.
Adding that all these Certified True Copies of documents were attached to his(Adegboye) Expression of Interest Form in respect of Alawo Chieftaincy Stool.
According to CHRSJ: "To our surprise, the time when Adegboye Taiwo claimed to change his name from Abudulie to Abdulrasaq after obtaining the acclaimed NYSC Certificate. He bears 'Abudulie' to obtain West Africa Examination Council (WAEC) in 2001, National Diploma (ND)in 2005, Higher National Diploma (HND) in 2008 and NYSC Certificate in 2009 but changed his name to contest for Alawo Stool from Abudulie' to Abdulrasaq and this suspicious of identity theft which means he does not know his real name before he went to the Polytechnic and observed a year mandatory of National Youth Service Corps. This is a pure issue of criminal forgery by Adegboye Taiwo ".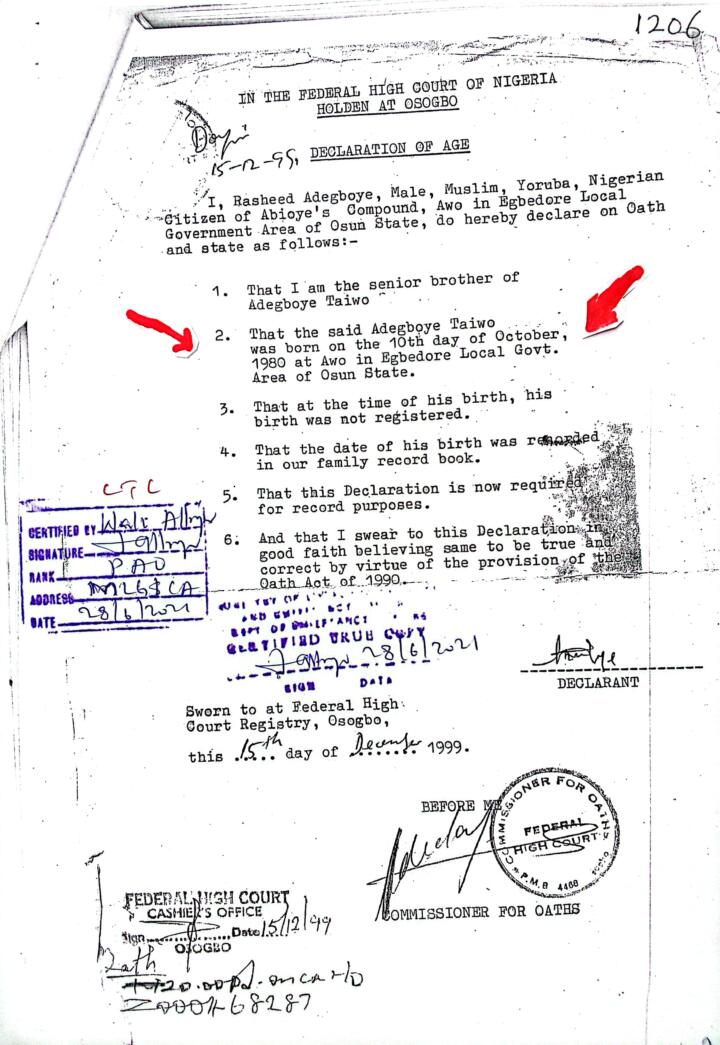 It further maintained that this was the reason why Taiwo Adegboye and his cohorts in the forgery scandal had been running helta-skelta to cover his forgery activities after the Appeal Court had sacked him from the throne of Alawo Stool.
Speaking on the rumour of alleged plan coronation by the Egbedore Local Government, Awo, to reinstall deposed Taiwo Adegboye in flagrant disobedience to Appeal Court Judgement, warning that such an action would amount to contempt of Court that could lead to imprisonment of contemnors.
CHRSJ, then, restated the call on the administration of Governor Ademola Jackson Nurudeen Adeleke to set up a panel to investigate the forgery scandal rocking the Alawo of Awo Chieftaincy Stool in Egbedore Local Government area of the State.
The group, therefore, in the interest of equity and justice, also urged the State Government under Governor Ademola Adeleke to act in accordance with the Supreme Court of Nigeria in the case of PDP&2Ors. V.Biobarakuma Degi- Eremieyo & 3Ors(2021)-SC.1/2020 by implementing the Appeal Court Judgement in respect of the Chieftaincy Stool.
Support InfoStride News' Credible Journalism: Only credible journalism can guarantee a fair, accountable and transparent society, including democracy and government. It involves a lot of efforts and money. We need your support. Click here to Donate