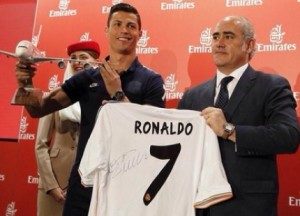 Real Madrid defender Pepe has backed Cristiano Ronaldo to become one of the best players ever, and says his teammate for club and country is "light years ahead of anyone else" currently.
Three-time Ballon d'Or winner Ronaldo has scored 43 goals in 41 appearances for Real Madrid this season, and has helped lead Los Blancos to the quarterfinals of the Champions League for the sixth straight season.
With a goal in Real's 4-0 defeat of Eibar on Saturday, Ronaldo became the first player to score 30 goals over six straight seasons in Spain's top division.
An in interview with the Portuguese Football Federation (FPF) on Monday, Pepe praised the former Manchester United man's divine talents.
"People like Cristiano are unique, they are people blessed by God," Pepe said.
"He was blessed by God and knew he would become one of the best in the history of football.
"Cristiano is the best and is light years ahead of anyone else. He's a quiet person, a hard-worker and honest."
Ronaldo and his teammates suffered a stunning 2-0 defeat at Wolfsburg in their Champions League quarterfinal first-leg tie last Wednesday.
They will return home to the Santiago Bernabeu on Tuesday in hopes of reversing the tie in the second leg and keeping their Champions League dream alive.
In Monday's AS newspaper, Ronaldo predicted a memorable comeback in Madrid.
He said: "Tuesday will be perfect, it'll be a magical night; with your help the players will give the maximum on the pitch and we will go through to the next round. Hala Madrid!"