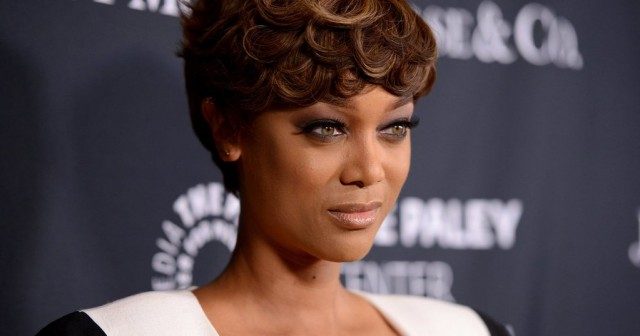 Multihyphenate Tyra Banks exclaimed that she was "very, very hungry" for a big cheesy slice of pizza by the time she hit the Fonda Theatre stage in Hollywood late Sunday night for the keynote talk at Galore Media's first annual female empowerment-focused Girl Cult festival. Turns out it was a theme in her talk that touched on body image, being a successful business woman and the racial tensions in the nation.
"I want to talk to you about adversity and obstacles and haters and things in life that get in the way of whatever the hell that we want!" declared the 43-year-old supermodel-entrepreneur-television personality. "Somebody telling you that you are not good enough, you can't do it, it's not gonna happen, it's impossible, sit down, shut up, step aside, and move over for somebody else. I am here to tell you to tell them to kiss your big fat ass! Or your flat ass or your cellulite-and-stretch-marked ass. Whatever kind of ass you have, you tell them to kiss it. It's so important to look past that and acknowledge that they're tripping and they have their pain, but we're not gonna let that keep us down."
Banks recalled modeling in Milan at age 21, when her mother was called in by her agency, told that her daughter had gained too much weight in her rear end and was handed a list of eight fashion designers who no longer wanted to work with her. When Banks, in tears, tried to figure out a plan to eat less and work out more, her mother firmly said, "No, we're going to eat pizza" and led her to a nearby pizzeria. Her mom then handed her a pen, directing her to write a list on the paper tablecloth of "all the modeling clients who like ass, because your ass is getting bigger and I'll be damned if my baby starves for this damned industry." Victoria's Secret, Sports Illustrated and Pepsi made the list, which she took to her agency, finally persuading them to contact the lingerie company; she later became one of the first Victoria's Secret Angels, landed a 10-year contract and was the first African-American woman to be featured on the catalog's cover.
"I'm not going to tell you everything because I have a little project coming out next year that I'm still filling out the details," teased Banks, hinting at a new business deal.
She also doled out business advice, starting with her philosophy of leading any concept with "why?" rather than "what?" (e.g. the impetus behind her reality television show America's Next Top Model was to "expand the definition of beauty.") "I wanted to kick to the curb the cookie-cutter idea that you have to be six feet tall, 120 pounds and have blond hair to model," said Banks. "But how am I gonna do it? I'm going to cast girls who are not professional models and have features that are not so obviously pretty. Unique, interesting, atypical beauties. And every time I tell those girls they are beautiful, I am telling every little girl at home that looks like her or every guy at home with those kind of features, that they are beautiful, too."
Other recommendations included "working for people you want to be like" and reaching out with flattering, cold-call emails (five sentences or less) to request meetings. On social media, Banks said to find "the white space" or a unique niche that hasn't been done and then "doing things not once but over and over and over again, because that creates a brand and something that stands out as different — just being pretty and doing pictures is not enough."
Another key Banks attributes to her success is the art of compartmentalizing work and personal. "I wipe my tears and keep it moving," she said. "When things are holding me down or making me sad, I try to keep them in little packages over here, so they don't affect my work, and go back later. My work is king (or queen!). I don't let things get in the way of career and goals."
Continued Banks: "I didn't turn into a business woman overnight. I was Jedi mind-tricking and strategizing on how to be a supermodel. Being a black model, I didn't have half the covers that the white girls had, but I took it very seriously. My mom got me an accountant and a money manager. This is a fashion business, not fashion fun time. If you want to be a business person, you need to go to the party, get the Instagram pictures you need to get, and take your ass home and go to sleep, so you can be awake in the morning to work."
Asked for her advice to shorter models, Banks said, "Right now there's a movement of curvy girls and they're getting all the attention. I'd say lay low. The curvy girl thing is going to become normal. We want it to be boring. We want to be yawning, because she's just like any other model coming down the runway. That's progress, when it's not cool or interesting or different — it just is. I think, because of Ashley Graham, that moment is about three years away. And that's when the short girls need to sneak up and have their movement."
On Charlottesville and the racial tensions consuming the nation, she said, "When I see [what's happening], it's almost like an out-of-body experience, because this is something that I saw my mother's generation going through. It doesn't feel real. And the scary thing is is that it is. But my mother taught me to always look to what I call 'the other side' and imagine not being in that situation, because there is always a future. I actually feel very fortunate that my son is very young; my son York is 17 months old and I'm happy that he's not 15 right now and having to walk down the street and worry if somebody's gonna beat him up because of the color of his skin. So I'm going to be fighting my personal fight to make sure that the world is safe for him."
Support InfoStride News' Credible Journalism: Only credible journalism can guarantee a fair, accountable and transparent society, including democracy and government. It involves a lot of efforts and money. We need your support. Click here to Donate