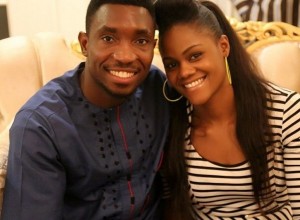 He's an R&B singer so all the romance and mushy mushy stuff is expected.
Timi Dakolo and his wife Busola are one happy couple with their 3 adorable children. Timi took their romance to another level when he featured his wife as the lead in his song "Iyawo Mi" and the result was simply lovely.
The couple granted an interview with Punch on how they met, how they settle differences and the finance of the family.
Read excerpts below: –
On how they met:
Timi: We met at the House on the Rock church. I was not searching then, but simply minding my own business when I spotted her. I was standing behind the choristers on the podium when I sighted this fine girl. I went to speak to her by asking her why she was frowning in church. I remember saying, 'Hi, my name is Timi Dakolo,' and she said, 'and so?' You would not believe that she gave me a fake number and I started searching for her every Sunday until I finally caught up with her and challenged her for giving me a wrong number. It was my lucky day because that was how we started talking. This was in 2010.
Busola: I gave him my genuine phone number but he thought it was a wrong one. Unfortunately, my phone got missing that day. After service, he followed us in a car to know where I was staying and later on, he kept coming to the house.
On why Timi is an exception:
Busola: "While he kept asking me out, I realised he was different from other artistes. He turned out to be a wonderful person."
On the proposal
Timi "I went to visit her and then put the ring in an empty plate of food. I was a little scared that she might say no but at the same time, I was convinced it was time to do it."
Busola: "It happened early in the morning. He said he wanted to make me breakfast in bed then he came with the plate covered and stayed a few minutes. I wasn't expecting anything more than noodles but he opened the plate and brought out a ring."
On some of the best memories of the union: Timi: "The arrival of our children. I have always been in the labour room. I was the first person who carried my third child when she was born. Other memorable moments include our travels, our 'alone time' at home with and without the children. It has been a beautiful journey thus far and I have learnt much being a father and husband. I also feel the collective responsibility of not having to think for only you alone any longer, is a high point of my marriage. You can't just wake up and go out on your own. When I stay outside for a long time, my wife would call me up and sarcastically say, 'greet those people wey dey there with you for me o. Its past 11pm greet them goodnight.' It has been a jolly ride with ups and downs."
On their best qualities:
Busola: "Humility and the fear of God. We pray and worship God together. Immediately he gets the inspiration for a song, he comes to me. That triggers something in me and makes me feel like he really appreciates my opinion. He is a simple person."
Timi: "It is always the physical attraction. I don't think men fall in love because a lady can pray. She is very God-fearing and can pray. When we first met she was always asking us to pray and it got tiring at some point."
On what they will love to change about each other:
Busola: "He stays on the phone for too long. I want him to spend more time with me instead of being on the phone."
Timi: "She should be fast when we are going out and apply her make-up hurriedly."
On if they run a joint account:
Busola: "No, we trust each other and don't need to show each other our bank statements."
Timi: "We don't have joint account but monthly budgets. We have different accounts for different things and support each other financially."
On what marriage means to him:
Timi: It's simply two different persons coming together to spend the rest of their lives forever. It sounds big and risky but it comes with favour, grace, maturity and a certain level of respect depending on how you manage it. After I am paid for a show, I share the money into several places, and just a fraction gets to me because a lot of people are involved in the matter.
Support InfoStride News' Credible Journalism: Only credible journalism can guarantee a fair, accountable and transparent society, including democracy and government. It involves a lot of efforts and money. We need your support. Click here to Donate