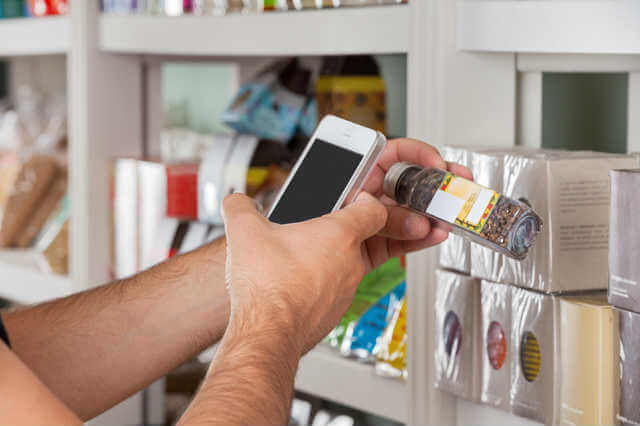 There are three main types of barcodes available for you to use in your business, ready to save you time and help collect and sort information in their own ways. The face of this handy, if un-sung hero of business technology has changed over the years, with new kinds of barcodes and apps taking the ubiquitous retail fixture to a new level where even the end-consumer is able to take advantage of their benefits.
1D Barcodes
The original, one-dimensional, parallel black bars on a white background barcode is the type of barcode we are most familiar. In use since the 1970s, the one-dimensional or 1D barcode is used solely for storing product numbers and serial numbers for purposes of tracking and pricing products. You'll see 1D barcodes on products you use every day like shampoo, conditioner, packaged foods, bubbles, or whatever you happen to purchase in the store. Another name for 1D barcodes is UPC or Universal Product Codes. They are made up of 12 digits and there are over 30 similar 1D barcodes that are used for a variety of purposes including things like Unites States Postal Service tracking codes or Pharmacode, which is used for pharmacies. The only drawback to this type of code is that it has a low amount of storage space, but is still used as a standard for tracking items, assets, and usage histories.
2D Barcodes
Also called matrix barcodes, two-dimensional or 2D barcodes are an upgrade to the old one-dimensional barcode. With a 2D barcode, you have a significantly higher ability to store information. They can store more than just numbers. In fact, the most recent versions can store a nearly infinite amount of alphanumeric characters, and can even do so in multiple languages. You've likely seen these type of barcodes, they are also called QR codes, your phone can even scan them to go to various websites and participate in digital events and promotions.
The barcodes are often square-shaped and use pixelated geometric shapes. There are also different types of 2D barcodes including the JagTag and Microsoft Tag. While the QR code is the most popular, each type of 2D barcode has its own level of popularity based on its function. You can even do things like send messages, launch phone calls, and send text messages with a QR code or other 2D barcode. That makes 2D barcodes really fun to use. You can add a 2D barcode to your business cards so your contacts can add your information to their phone without any time or effort.
3D Barcodes
More of an upgrade to the existing barcodes than a replacement, these barcodes are similar to the two-dimensional barcodes that were previously mentioned. What makes them three-dimensional is there durability. While 2D barcodes have a built-in error correction, 3D barcodes can withstand high temperatures and chemicals that would otherwise destroy 2D barcodes and can store even more information. These are great for manufacturers of assembled items and industries that see a lot of chemical use.
The reason why 3D barcodes are different than their 2D counterparts is that while 2D barcode readers are basing their detection on the ratio of black to white, with 3D barcodes, everything is based on height. The 3D barcode is embossed on the object and the scanner is able to look at each shape to compare the height in addition to the inherent information.
Whether you're a retailer looking to establish and track your inventory, an office in need of asset management, or even if you're looking for a new way to communicate your sales and services, a little barcode can go a long way. You can even purchase sequential bulk codes from speedybarcodes.com — meeting all you barcoding needs in an instant.
---
Lautaro Martinez is a freelance writer and business student who contributes articles and insights into the latest trends of the business world and solutions for the challenges faced by the aspiring entrepreneur.
Support InfoStride News' Credible Journalism: Only credible journalism can guarantee a fair, accountable and transparent society, including democracy and government. It involves a lot of efforts and money. We need your support. Click here to Donate