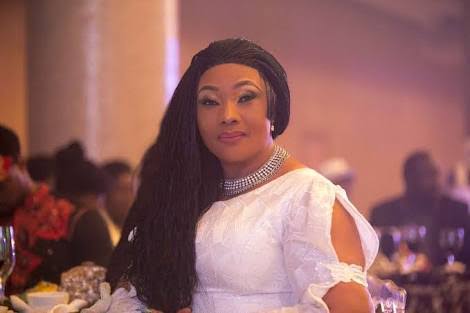 Veteran Nollywood actress, Eucharia Anunobi has come out to react to the looting saga between Uche Elendu and Doris Ogala.
The moviestar recently cursed Doris and every other Nigerian who said Uche Elendu was only chasing clout.
According to her, the unfair accusers will surely see the millions invested in their businesses vandalised so they will know how it feels.
She added that they will even find it difficult to set up a shop, but if they manage to raise the cash for it, it will eventually burn to ashes.
Her words, "There have been people who have been speaking evil concerning your life, concerning your business especially. And I decree with the unction that is on my life that evil shall never depart from their life. The God of justice and judgement is the one that I call on today concerning your business."
"Some wicked people opened their mouth and spoke evil and said you are chasing clout. Somebody sees millions having been invested and it is lost and says you are chasing clout.
Today I stand in the authority of the name that never fails and I say as God has spoken, that evil shall not depart from those who pay evil for good.
Today I decree with the unction of God upon my life, I say Lord, those who are speaking evil concerning this shop and saying you are chasing clout, when there is absolute vandalisation after millions have been invested, today, may they never ever set up a shop and if they have ever set up a shop, may their shop burn to ashes in the name of Jesus."