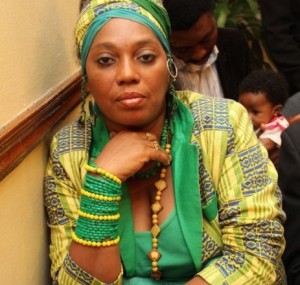 In a thrilling interview with The Sun Newspaper, the 53-year-old TV personality, socialite and Femi Kuti's sister speaks on a near r*pe encounter, her career, marriage and being "happy" with her man.
Read excerpts below: –
On s*xual harrasment
"You know as women, some of us have tried one way or the other to outsmart men. I was a player as a young girl so I won't say I have been sexually harassed because I was the one that tried to play men for their money you know.
I have had men that have spoilt me silly with gifts and money. And I knew I was just a flirt; I was just playing them. The men took us out for lunch and we just spent their money. My friend used to come along when I went on dates and I went with her when she had dates; we would eat and drink and the men usually gave us some money when we were about to leave.
You know N500 was a lot of money back then. I remember that those days, a car was going for N3, 000. So there was this particular instance when we wanted to do the same thing with my friend's date. The meeting point was one of the rooms at the Eko Hotel & Suites. When we got there we knocked on the door, he answered and we entered. He was lying on the bed but left the door unlocked so he would not have to get up to open the door when we came in.
He is a popular man so I don't want to mention his name. When he removed the sheets he was stark unclad and we were shocked! He started chasing us around the room; he would chase my friend and then me. When we eventually found our way out of his hotel room we ran straight home. I couldn't tell my mum what happened. But I told my sister, brother and our friends and they all laughed at us. We were greedy young women who happened on a very wicked man.
No man has ever asked me for s*x for favours. Maybe they are too scared of me because of my father and brother; they probably know they will sing about it. Even with Felebration, no sponsor has ever asked me for anything; they just sponsor; maybe it's because of my family background."
On marriage
I am still single because I have lost all interest in marriage and I don't believe in the institution any more. Nigerian men are too controlling and overbearing for me and I am already set in my ways. Besides, I have been on my own for too long. My major concern is training my daughter. I praise married women; I think they are the real stars of this country.
Women in their husbands house looking after their husbands and children are amazing especially the ones with nine to-five jobs who come back home tired and still go to the kitchen to cook for their husbands. These are the women that women magazines should be celebrating because they are the real super women. Men are not easy to look after; I can't do that so I duff my hat for such women.
When my only child clocked two, I was separated from my ex-husband. I am now in my 50's and I am not thinking about having another child and I have no regrets. I don't believe in having kids with everyman that comes my way. Maybe I could have had more kids if I had re-married but since I never remarried there was no need for me to have more kids. My marriage didn't work because we couldn't get on together after two years. Right now my daughter is the most important person in my life.
I am still single and I have found a suitable man but right now, marriage is the last thing on my mind. Yes, it is true that you never can say never because things happen. But if ever I want to get married again, you will be the first to know."
On relationship advice
First I will say take things slowly and don't rush into any relationship. Get to know whoever your partner is. It's not just about looks or money because you can meet someone with good looks but nasty character and end up with a monster. Learn about the person you are dating. Take advice from me because I have a story. I went for the looks and not the money and I regretted many times over.
Now I have a man that is handsome, hard working and very nice; he is a genuinely nice person and we are happy together and we've been dating for a numbers of years now. There are no wedding bells for now; we are happy the way we are. We don't need marriage to be happier. Who knows, we might get married and start arguing, fussing and fighting.
However, I can't say my marriage was a bad experience. Maybe if I had not been married before I would be excited about getting married today. I have a beautiful daughter from the marriage and I am happy with the way my life is. My daughter is educated, has a good job and lives in England. I am proud of what came out of that marriage; I can never say I regret that marriage."
Support InfoStride News' Credible Journalism: Only credible journalism can guarantee a fair, accountable and transparent society, including democracy and government. It involves a lot of efforts and money. We need your support. Click here to Donate