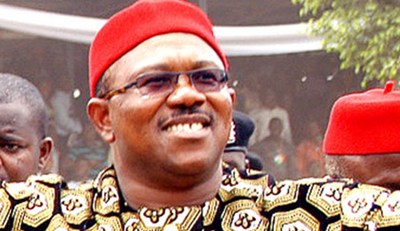 Immediate past Governor of Anambra State, Mr. Peter Obi, has expressed joy over the decision of the National Conference to grant additional state to the South- East.
He described the decision as one that would address the injustice in leaving the South-East with one State less than other geo-political zones in the country.
Recalling all the efforts the people of the South-East had made in that regard, Obi thanked the South-East delegates for pulling it through and encouraged them to seek more issues that would benefit the people of the region.
Fielding questions from Journalists at the burial of Lady Prisca Obiamalu at Nnewichi, Friday, the ex-governor said he had followed keenly, the decisions of the conference since it started.
He also thanked God for granting President Goodluck Jonathan the wisdom to convene the conference.
He said the Conference was gradually proffering solutions to many contentious issues in the country.
On the security challenges bedeviling the country, Mr. Obi said he was gladdened by how seriously the president was facing it and expressed strong optimism that the country would emerge stronger and more at peace with one another.
While condoling the family of the deceased, Obi reminded them that their mother's death called for celebration, because she lived a fulfilled and enabling life.