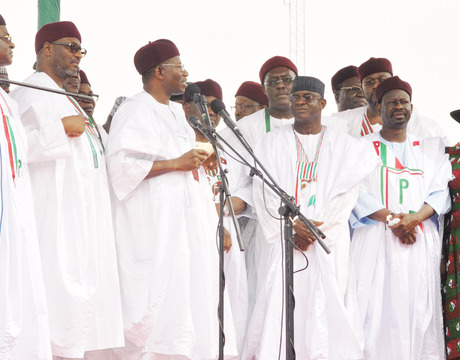 FROM LEFT: Gov. ISA YUGUDA OF Bauchi STATE; PDP NATIONAL CHAIRMAN ADAMU MUAZU; President GOODLUCK JONATHAN; SENATE President DAVID MARK AND GOV.IBRAHIM DANKWAMBO OF GOMBE, AT THE PDP RALLY IN Bauchi ON Saturday (29/3/14).
The Peoples Democratic Party (PDP) in Osun on Thursday said that all arrangements had been concluded to receive President Goodluck Jonathan in Osogbo on Saturday.
The Secretary of PDP in Osun, Mr. Bola Ajao, made this known when he addressed journalists in Osogbo.
Ajao said the President was coming to throw his weight behind Senator Iyiola Omisore's bid to win the state governorship election.
The News Agency of Nigeria reports that the election holds August 9.
He said Jonathan would also use the visit to intimate the residents with his transformation agenda.
"The President's passion for overall development is not hidden. Few days from now, residents will be at the poll to elect a governor to steer the ship of the state for another four years.
"The import of the President's visit is not only to boost the candidature of the party's governorship candidate but to further explain his transformation agenda to the people.
"A vote for the PDP is a vote for individual growth and collective emancipation through a one man one woman vote", he said.
According to him, PDP leaders, including Vice-President Namadi Sambo, will accompany the president, who is also expected to visit the Ooni of Ife, Okunade Sijuade.
The president will address residents at the township stadium, Osogbo.
Mr. Omisore of the PDP is the main challenger to the incumbent governor, Rauf Aregbesola of the All Progressives Congress. (NAN)