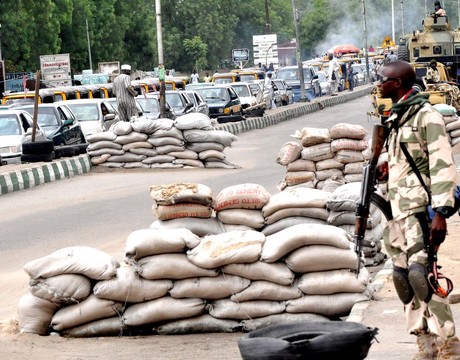 SOLDIERS ON GUARD ON POST OFFICE ROAD IN
Maiduguri
Some residents of Maiduguri, Borno, on Thursday commended the Nigerian military for its gallant efforts aimed at tackling the Boko Haram insurgency in the North-East region.
The inhabitants told the News Agency of Nigeria in Maiduguri that with the current tempo of military operation against the sect members they were optimistic that the insurgency would soon come to an end.
Alhaji Jubrin Gunda, a lawyer, said it was obvious that the Boko Haram insurgency would end in a very short time going by recent developments in the campaign.
"The Boko Haram insurgents are in disarray now, most of their leaders have either been captured or killed.
"The field fighters are in a confused state; they have been surrendering to the authorities with their weapons en masse.
"I belief that peace will return to Borno in a month's time because the insurgency will die soon", Gunda, who is also the Secretary of Borno Youths Vigilance group, known as Civilian JTF, said.
He commended the military for the renewed efforts in fighting the insurgents.
"Whatever happened in the past is gone. All what I know is that the military is ready to flush out the insurgents now and the efforts have been most successful", he said.
He also expressed optimism that the military would flush out the remaining insurgents hiding in Bama, Gwoza and other areas.
"What is happening is that the insurgents are now getting fewer in number, even those staying in Bama or Gwoza do not stay in the night for fear of the military invasion.
"What they do is to appear in the day time and escape into their hiding places in the evening", he said.
The lawyer said a number of insurgents had been trying to escape from Sambisa forest to other parts of the state.
"Even those arrested in Biu on Tuesday were just trying to escape from their den, following the death of their leaders.
"So many others are also on the run to avoid being captured", he said.
Gunda said that most of the field fighters were running because they were forcefully recruited into the sect.
"Most of them are villagers who were forced into the sect by the leaders.
"Since the leaders have been killed or captured, the fighters have no option but to run", Gunda said.
Malam Ayemu Ibrahim, another resident, corroborated Gunda's claims, saying that the Boko Haram insurgency had crumbled.