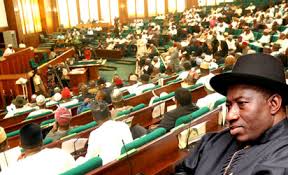 Ahead of Presi­dent Goodluck Jonathan's formal declaration to contest the 2015 presidential election on the platform of the Peoples Democratic Party, PDP, some House of Representatives members in the All Progres­sives Congress (APC) have vowed to go to court to challenge his eligibility.
The president last week, indicated his intention to seek re-elec­tion and went a step further to set up a presidential declaration committee chaired by former Minister of Defence, Bello Haliru.
Disclosing the plan to drag President Jonathan to court, one of the APC lawmakers, Hon. Nasiru Sule Garo, repre­senting Gwarzo/Ikabo Federal Constituency of Kano State, said the lawmakers would contest his (Jonathan) eligibility in court.
He said: "People are ready to go (to court). We are just waiting for him to declare. For now, he is not a candidate; he is just being endorsed, just like during Abacha's regime, when selfish individuals came coming out to say Abacha was the sole candidate of every other party", he submitted.
The lawmaker hinged the fresh agitation to contest Jonathan's eligibility on the Supreme Court ruling on former Adamawa State Governor now Minister of Youth Development, Mr. Boni Haruna, which quashed his re-election bid in 2007, after being sworn-in to complete the tenure of then Governor-elect, Alhaji Atiku Abubakar, who resigned to serve as Chief Olusegun Obasanjo's running mate in 1999 and another four years.
The lawmaker submitted: "By the Constitution of Nigeria, I don't think the President (Jonathan) has any right for now to contest. He has been sworn in twice and our constitution says a person shall occupy office of the president for two terms of four years, which makes it eight years and this president has occupied this position for two years and he contested election and he is occupying for four years, which makes it six.
"And if he seeks re-election now, it means he is going to be sworn-in for the third term; that one too can be contested and is he going to serve for two years and then we do an­other election or is he going to violate the constitution and serve for four years, which would make him the president of Nigeria for 10 years? So, there are lots of questions that need to be clarified by the court before he even contests for that position".
Garo said the Supreme Court had already given a landmark judgment on a similar matter in the case of former Governor Haruna.
He argued: "If that is the case, remember the case of Boni Haruna. He was not elected, as the Governor of Adamawa State. He was the deputy of Atiku Abubakar and they were elected, just like Jonathan was elected with Umaru Musa Yar'Adua and he was sworn in when Atiku resigned before taking office as governor and served the four years. Boni Ha­runa contested in Adamawa and won an election, as the main candidate and served for four years and left office. So, that can still be contested".
Faulting the endorsement of President Jonathan by the PDP national officers and governors, the lawmaker claimed the action was illegal. He argued that some aggrieved PDP members, who were also eyeing the party's presidential ticket may challenge Jonathan's eligibility in the court.
He pointed out that the flurry of endorsements for Jonathan was not different from the days of the late military dictator, General Sani Abacha, who was adopted as the sole candidate of every political party in the country.
Giving details of the planned suit against the president, Garo said the lawmakers would ask the court if Jona­than is eligible to run for Presidency and if he can be sworn in three times as well as rule the country for 10 years, against the maximum allowed limit in the constitution, which is eight years.