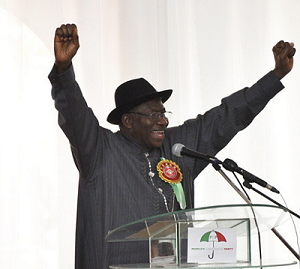 President Goodluck Jonathan has inaugurated the Peoples Democratic Party (PDP) Presidential Campaign Organization (PCO), saying that at the right time, he would confront the opposition with his record of achievements.
He boasted that PDP would win the presidential election next month based on its track record.
The president in a veiled statement directed at the presidential candidate of the All Progressives Congress, APC, Gen. Muhamadu Buhari (retd.), also challenged past leaders accusing his administration of mismanaging the country to showcase their achievements when they held sway in office.
Buhari was military head of state between December 1983 and August 27, 1985
He said: "We will confront them with what we have done within this period and they should tell us what they did within the years they served this country.
"It is not about just deceiving young people and using them as canon fodders, telling them lies, preaching religion and sentiments so that you continue to keep them underground to be cleaning your shoes
"I was there but because of education, I moved up and Nigerian children must move up. Nigerian children that were like me cleaning shoes will surely move up and become governors and presidents.
"Some people want to continue to keep them down. We will not allow them. When that time reaches, will talk", he stated.
Responding to the accusation of squandering oil money, Jonathan said, "We will ask some relevant questions when we start this campaign. They are now telling Nigerian women what they can do for them. They will tell us how many women served in their government first".
Speaking on some of his achievements in the education sector, he said: "When we came on board, 12 states had no federal university out of the 36 states and we said that is not fair, that the federal government must get at least one university in all states.
"Some people will tell us how many nursery schools they built when they were heads of government in this country. During the campaign, they will tell us not today".