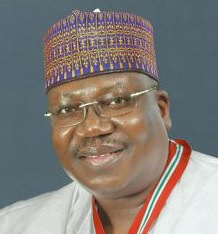 The South West caucus of the All Progressives Congress in the Senate and the newly-elected senators from the geo-political zone, on Friday emerged from a marathon meeting with the agreement to adopt Senator Ahmad Lawan representing Yobe North, as their candidate for the Senate President position in the 8th National Assembly.
According to PUNCH, 12 out of the 13 newly elected senators met at a private residence in the Asokoro area of Abuja and adopted the Lawan, who is the Chairman, Senate Committee on Public Accounts, as their preferred person for the job.
One of the senators, who spoke on the condition of anonymity because he was not authorized to speak on the issue, said they argued before finally arriving at the conclusion to queue behind the Yobe senator.
He said, "The 12 senators-elect with the exemption of Mr. Tayo Alasoadura, who was unavoidably absent at the meeting, argued for hours but at the end of the day, we came up with the choice of Lawan.
"It was generally agreed that we will formally communicate our position to the leadership of the APC just as our colleagues in the North-West had already done".
He said the only issue that the South-West senators-elect had against Lawan was his alleged closeness to the Peoples Democratic Party caucus in the Senate especially, the outgoing Senate President, David Mark, who they believe would have overwhelming influence on him if elected.
"Apart from being friendly with Mark, it was generally agreed that Lawan remained the best person for the job being a highly principled person".
It was further learnt that the senators-elect pledged to seek the support of their PDP counterparts from the zone, to also vote for Lawan.
When contacted to confirm the development, Chairman of the Senate Committee on Science and Technology, Senator Ajayi Boroffice (Ondo North), said that the meeting actually held but denied the elected senators endorsed a particular candidate.
He said, "We agreed at the end of the meeting to support the decision of our party on the issue of zoning. Why should we adopt a contestant? What if the party leadership refused to zone senate presidency to his region?"