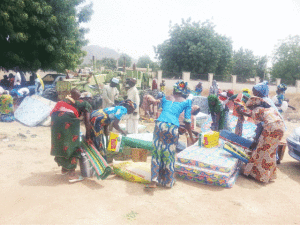 After months of tortuous memories and uncertainty, seven female Internally Displaced Persons (IDPs) from Bama, in Borno State, finally got to smile on Sunday as they married their suitors at an elaborate wedding ceremony in Maiduguri.
The event took place at the Government Reserved Area (GRA), residence of Alhaji Aji Kolo, the treasurer of the state chapter of the All Progressives Congress (APC).
Alhaji Kolo was the sponsor of the wedding.
Speaking at the ceremony, the APC chieftain explained that he decided to foot the bill of the wedding so as to give a sense of belonging to the IDPs, who he noted lacked the resources to sponsor the weddings themselves.
He also said his aim was to help strengthen the institution of marriage in the community.
The newly wedded brides expressed joy at the event and thanked Kolo for the gesture.
One of the beneficiaries, Mrs Amina Bukar, said she had wanted to formalize her wedding since last year but for lack of resources.
She pointed out that the APC chieftain had assisted IDPs in the locality on several occasions, adding that his philanthropic disposition was unrivaled.