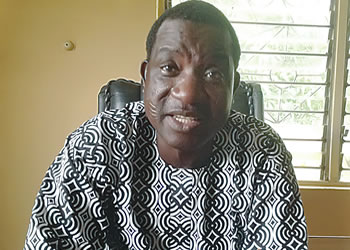 Plateau State Governor, Simon Lalong, has commended President Muhammadu Buhari for appointing Solomon Dalung as the Minister of Youth and Sports. He described the appointment as an honor not only to the personality involved, but to Plateau State in general.
Simon Lalong was represented by the Plateau State Liaison Officer in Abuja, who led a 10-man delegation on behalf of the State Governor and people of Plateau State to the new Minister in his office recently. The Governor also portrayed Solomon Dalung as an illustrious son and worthy citizen of Plateau State whose capability and integrity is not in doubt.
He further acknowledged Dalung as a detribalized Nigerian and a protagonist of religious harmony. He expressed assurance to the Nigerian President that the new Minister will justify the confidence reposed in him by delivering on the important assignment given to him to drive the new administration's Youth Agenda and sports development efforts.
While presenting him with a gift as a token of affection and identification of the Government and people of Plateau State, Dalung said that he was humbled by the show of love from the Governor and people of Plateau State. He appealed to the people of Plateau State and entire country to live in peace and harmony with one another, irrespective of their religious differences. Adding, the Almighty God who created Muslims, Christians and other faiths has a reason for doing so. He further called on religious leaders, who were fond of using churches and mosques to preach hate sermons of religious disharmony to desist from doing so.
The Minister affirmed that peace is essential for the socio-economic development of any country, indicating that no businessman or industrialist will invest his or her resources in areas bedeviled by strife, war or violence. He assured that he would give his best and to make success of his new assignment.
In another development, the Minister during a courtesy visit to his office in Abuja by the Executive Members of the Arewa Peoples Unity Association (APUA) commended them over working for peace and unity in the North, in particular and the country in general. He praised them for the invaluable role they played while voting for 'change' and for ensuring peace and unity before and after the elections.
Dalung said that he was overwhelmed about their support and having to travel very far to identify with him. He challenged them to continue their good works of promoting peace, love and unity in the country and shun activities capable of impairing peace, unity and the stability of the country. He prayed to Almighty God to grant them journey mercies back to their destination.
Earlier in his remarks, the Chairman of the Association, Adamu Aliyu said that the 13-member delegation is paying the courtesy visit to congratulate the Minister and deliver a formal letter of congratulation from the Association. He wished the Minister God's mercies and success in his assignment.
ABUJA (Federal Ministry of Youth Sports Development) Report