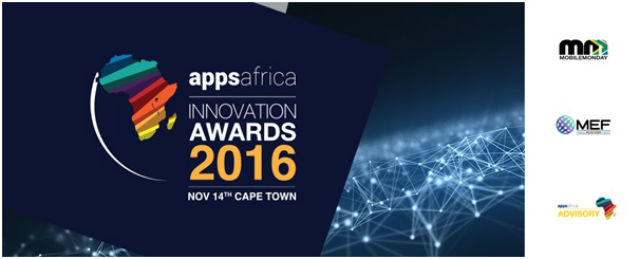 The finalists for the AppsAfrica.com Innovation Awards 2016 have been announced with a shortlist featuring leading mobile and tech companies from across Africa. The annual awards attracted over 200 submissions from 25 countries, chosen by an independent panel of leading industry experts.
Supported by Uber, Opera, Mobile Monday South Africa (MOMO), Mobile Ecosystem Forum (MEF) and the MMA, the Awards celebrate the best in mobile and tech from across Africa, providing winners with global publicity, recognition and networking with 300+ industry peers at the Awards party in Cape Town on November 14th.
"We are delighted with the huge response building on 2015 and this year's finalists represent North, South, East and West Africa which is testament to innovation happening across the continent" explains Andrew Fassnidge, Founder of AppsAfrica.com.
Jo Eyre, Senior Manager Africa of Opera added "we work hard at Opera to enable affordable access to the mobile internet for everyone and we're delighted to celebrate innovation with AppsAfrica.com and our technology and mobile peers. It's exciting to witness the fantastic work the industry is doing to solve problems and enrich lives through mobile and the internet."
The Appsafrica.com Innovation Award Finalists 2016 are;
Disruptive Innovation Award:
Domestly – South Africa
Flutterwave – Nigeria
Bottles App – South Africa
Opera Max – Africa
Flare – Kenya.
Best Social & Messaging Award:
Pelichat – South Africa
LOGISA – Tanzania
Jongla – Nigeria
Vula Mobile – South Africa
Dokita Eyes – Togo.
Best African App Award:
Zynar – Africa
SpacePointe – Nigeria
Domestly – South Africa
Sliide Airtime – Nigeria
Vula Mobile – South Africa.
Enterprise Solution Award:
Kasi Insights – Cameroon
Flutterwave – Nigeria
Celstra – South Africa
Alpha Exchange – South Africa
Sauti – Africa.
News & Entertainment Award:
KoshK Comics – Egypt
Battabox – Nigeria
Super Animals AR App – South Africa
Vodacom Video Play – South Africa
Glo Twitter Voice – Nigeria.
Educational Award:
Tuteria – Nigeria
Mwabu – Zambia
Shule Direct – Tanzania
Eneza Education – Kenya
Xander Apps – South Africa.
Fintech Award:
BitPesa – Africa
Lakt – Kenya
Monetbil – Cameroon
PiggyBankNG – Nigeria
Standard Bank – South Africa.
Social Impact Award:
Abalobi – South Africa
Medtrucks – Morocco
Agriledger – Kenya
Ask Without Shame – Uganda
Worldreader sub-Saharan Africa.
Brand On Mobile Award:
Purlieu – Ghana
LAfricaMobile – Senegal
Mobi Hunter – South Africa
Vouchercloud – South Africa.
Women In Tech Award:
Sayu Abend
SpacePointe – Nigeria
Ruth Nabembezi – Ask Without Shame – Uganda
Faraja Nyalandu –Shule Direct – Tanzania
Emma Margetts – Alpha Exchange – Global
and Genevieve Leveille
AgriLedger – Kenya.
All these companies are attempting to become as successful as other worldwide startups, such as apartment cleaning service, Handy.com. The awards were support from leaders in mobile tech and innovation including Uber, Opera Software, Mobile Monday South Africa, MEF, MMASA,  iHub, CcHub, The Bandwidth Barn, Citi, IDEA, Buni Hub, Citi, Silicon Cape, Techpoint.ng, TechCabal, TLA Africa, MEST and Women In Tech Africa.
The Appsafrica.com Innovation Awards winners will be announced on Novemeber 14th  2016.  Visit www.appsafrica.com for more details.