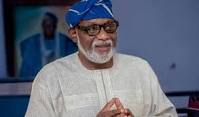 The Witches and Wizards Association of Nigeria (WITZAN) in Ondo has reportedly said that the upcoming governorship elections in the state will be won by All Progressive Congress (APC) candidate, Rotimi Akeredolu.
The declaration was made by WITZAN President, Dr Okhue Iboi, after a meeting in the Ese Odo area of the state.
"This week Saturday's election in Ondo State is going to be hotly contested between APC, AD, PDP, SDP and the candidate of APC will emerge victoriously," Iboi said.
"It is unfortunate that many Nigerians are hypocrites. When they hear witches or read about witches, what comes to their mind is evil or darkness. For our own witches group, we are children of light. We are for good.
"Have people forgotten that even in the Bible, there is a story of King Saul who consulted a witch when he was about to go into a battle to enable him know how the battle will go? Again people tend to forget that Nigeria is a secular state; Nigeria doesn't belong to only Christians and Muslims, the nation is for all faiths," he added.
The Ondo governorship election will hold on November 26.