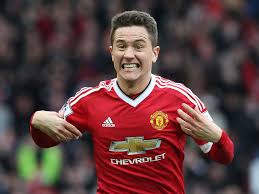 The chorus was a constant. "We're top of the league," sang the Chelsea contingent in the Sir Bobby Charlton Stand. And so Chelsea are, but their advantage has been trimmed to four points by the combination of a surging Tottenham and a seemingly weakened but impressively strong Manchester United side. The Premier League has a title race.
It also has a battle to finish in the top four. Jose Mourinho had seemed to prioritise the Europa League, the sense United had abandoned hopes of a top-four finish apparently epitomised by the sight of Ashley Young wearing the captain's armband. But the manager had surprise on his side; His starting XI had no Zlatan Ibrahimovic, no Henrikh Mkhitaryan, a change of shape and of skipper.
Mourinho fielded a back three, a tactic he had only previously used against Rostov and Middlesbrough. It ranked as a greater surprise, as Marcos Rojo and Eric Bailly appeared to be the only fit centre-backs he trusted. They were joined by Matteo Darmian and kept a clean sheet with comparatively few alarms.
Chelsea struggled to counter Mourinho's 3-5-2 formation, conceding goals to Marcus Rashford and Ander Herrera. If Mourinho outwitted Antonio Conte, just about every United player outperformed his Chelsea counterpart. This was only the leaders' third defeat in 26 league matches since Conte adopted his 3-4-2-1 formation. It was also the most emphatic. Apart from winning the EFL Cup, this was arguably United's finest day under Mourinho.
United have now gone 22 league games unbeaten since the 4-0 thrashing at Stamford Bridge that represented one of the lowest points of Mourinho's career. Yet if that revival had stalled among draws, this was that most gratifying of wins. Not least, of course, for the former Chelsea manager in the United dugout.
United had been slow starters this season. Rashford's strike here was their first goal in the opening 20 minutes of a home league game all campaign. It was one reason the atmosphere was transformed. So, too, was the forward line.
Rashford seized his opportunity in more ways than one. He angled a shot past Asmir Begovic after being released by Herrera, who took a brief break from his main task to turn creator.
Herrera was handed a man-marking job on Eden Hazard despite his dismissal at Stamford Bridge for two fouls on the Belgium international. He collected another caution for fouling Chelsea's creator-in-chief while the opponents felt he veered into the illegal again, regaining possession when he handled before releasing Rashford. If United thought Herrera was unlucky in their FA Cup tie, fortune favoured him here. His handball went unpunished. His goal took a telling deflection. This was nevertheless a cathartic occasion for the midfielder, who was celebrated by the United faithful for a colossal contribution.
Rashford, for his part, had gone 20 games and more than six months without scoring in the league before striking at Sunderland last weekend. Even the quickest of routes to the top can feature roadblocks, but after finding a way past a personal barricade, Rashford has found the way to goal again. When he thumped a shot into the side netting, many at Old Trafford thought he had a second of the afternoon. He could have ended up with a hat trick.
In a season when few have troubled David Luiz, Rashford was the exception. The key was separating him from his fellow centre-backs, making the Brazil international look fallible. In an instant, Rashford offered reminders of the similarly sharp Javier Hernandez's goal against Chelsea in 2011, another moment when Luiz struggled.
Ibrahimovic has proved more prolific, but he is also more static. This was a choice between opposites: young and old, fast and slow, starlet and superstar. Mourinho went for the usual understudy. As the standing ovation when Rashford was eventually replaced by Ibrahimovic illustrated, he was justified.
It can take one injury to disrupt a team with genuine chemistry. Liverpool have offered evidence of that this season. So did Chelsea, when a well-oiled machine was stripped of a key cog. If Sadio Mane has tended to figure highly in lists of the league's most irreplaceable players, this game suggested Marcos Alonso represents a rival.
Alonso had started 25 consecutive league games, including every match in which Conte had used his 3-4-2-1 formation. That sequence came to an abrupt halt when he was injured in the warm-up. Enter Kurt Zouma. Cesar Azpilicueta switched to the left, but it deprived Chelsea of an attacking threat on the flank. Then, Conte moved the Spain international to the right, bringing Victor Moses over to the other flank. Only half an hour had elapsed and the manager was already on to Plan C. When Moses was substituted, Azpilicueta swapped wings again and Chelsea adopted a back four.
Their problem, in part, was that whatever the personnel and shape, they lacked a cutting edge. Diego Costa had not gone four Premier League games without scoring until this month. Now his drought extends to five.
There are echoes of Chelsea's title-winning campaign under Mourinho, when Costa started the season with a flurry of goals and was rather less prolific in the run-in.
On this occasion he represented a menace, just not to the United goal. Instead, with his touch seeming faulty, the striker resumed his role as the pantomime villain, shoving Antonio Valencia into the post. Cheers greeted his eventual booking for clipping Paul Pogba. Costa and Rojo, who had fought a physical battle at Stamford Bridge in the FA Cup last month, both ended up on the ground and in seeming pain after clashing when they went for a header. Costa took the chance to resume a dialogue with referee Bobby Madley. The Stretford End told him in no uncertain terms to go away.
Even when Herrera went to ground after another penalty-box altercation, Costa escaped a red card. He often does, but Chelsea could do with him devoting more time to pursuing goals and less to continuing feuds in the next few weeks.