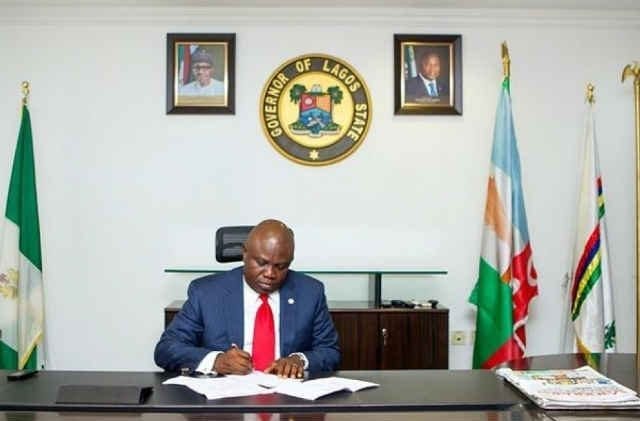 A Lagos group, Save Lagos Group (SLG) has disclosed that the present administration of Akinwumi Ambode did not deserve to collect any tax from indigenes of the state because the governor has failed to adhere strictly with the provision of the amended 1999 Constitution of the Federal Republic of Nigeria (FRN) that stipulated the condition for the collection of taxes from the citizens.
The group also stated that the Ambode's administration has failed to justify the huge amount of funds being accrued to the State through taxes, federation Account and other sources of funds, saying that the State government had failed in the area of security, adding that the funds earmarked through Lagos State Security Trust Fund (LSSTF) were not justified with the state of insecurity in the State.
In a statement issued and signed by the Convener of the group, Comrade Adeniyi, Alimi Sulaiman and copies were made available to newsmen on Tuesday, noted that the State government which failed to commiserate its obligations to the citizenry with the huge resources accrued to it, did not deserve to collect any tax from the citizens.
Comrade Sulaiman maintained that it was Constitutional provision for the government to collect tax from the citizens in accordance with the section 24(f) of the 1999 Constitution as amended, however, supporting his argument with the Constitutional provisions of sections 14, 15, 16, 17, 18, 33, 34 & fourth schedule of the amended 1999 Constitution where it enumerated the responsibilities of the State and local government areas to the citizenry in their areas, adding that until the State government under Ambode's watch met these provisions of the Constitution that citizens would be compelled to perform his/her obligation of payment of taxes.
SLG Chief who alleged that the State government was ignorant of law and has been working in contrary to the Constitutional seventh schedule Oath of allegiance/office of the Governor of a State which says that government should be for the purpose of promoting the good government and welfare of all persons in our State on the principles of Freedom, Equality and Justice and for the purpose of Consolidating the Unity of our people.
According to SLG, "Lagos State in recent time has been facing challenges of insecurity where kidnapping, vandalism, infrastructural decadence and host of others were order of the day, upon all the tax payers' money being claimed to be spent on the issue of security. The case of kidnapping of six student of Lagos State Model College at the Igbonla area of Epe is yet to be resolved by the State government and some others heinous crime. Introduction of exorbitant tax regime by the State government when the same government failed to perform its responsibilities as stipulated by the amended 1999 Constitution of the Federal Republic of Nigeria is against the principle of justice, equity and egalitarian society.
"Some of the projects embarked upon were being used as conduit pipe to siphon the resources of the State into private purse of Ambode's Godfather and few individuals. It is necessary for the Lagos State government to act according to the Law of the land by stopping anti-people policies of taxation. The government should be responsive and responsible by knowing that the country is currently experiencing recession in her economy"