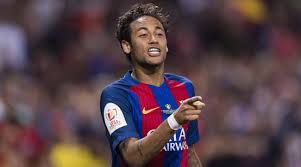 Neymar is not for sale, Barcelona president Josep Bartomeu said on Thursday amid reports of interest from Paris Saint-Germain.
"He is not on the market," Bartomeu told the Associated Press.
Bartomeu's comments echo those of club vice-president Jordi Mestre and spokesperson Josep Vives, who both said earlier this week they were confident Neymar would not leave the club.
But reports persist, with Barcelona radio station RAC1 on Thursday joining other outlets in Spain in claiming a deal is close, after Brazil's Esporte Interativo said on Tuesday a transfer had been agreed.
After the 25-year-old Brazilian striker joined Barcelona in 2013, he has combined with Lionel Messi and Luis Suarez to form an attack that led Barcelona to the Champions League title in 2015 and a pair of La Liga titles.
"He has a contract for the coming four years and, of course, we count on him," Bartomeu said of Neymar, who in October signed a three-year contract extension. "He's part of our team. He's part of this trident."
Neymar's deal includes a buyout clause that increased from €200 million in its first year to €222m in the second year €250m in the third year.
But Bartomeu said "these clauses are impossible to activate, if you want to comply with the financial fair play. If someone doesn't want to comply, then of course it can be activated."
Neymar trained with Barcelona in New Jersey on Thursday ahead of the club's preseason U.S. tour, during which they will play Juventus, Manchester United and Real Madrid.
His teammate Sergi Roberto said Neymar was not acting any differently amid all the transfer speculation.
"Neymar is with us and we're really happy that he's here in the United States," Roberto said. "We are happy to have a player like him in the team. Neymar is really good player, I like having him in my team.
"He's the same as usual. Don't ask me anymore about him, though, I'm not Neymar."