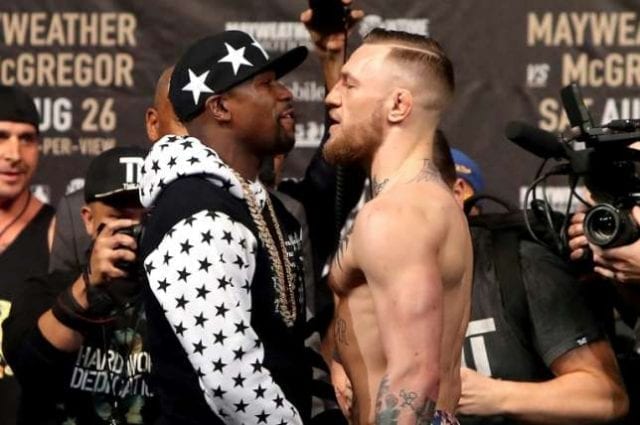 Conor McGregor celebrated his 29th birthday by defending himself against accusations of racism during a media tour to promote his fight with Floyd Mayweather in London on Friday.
The Irish mixed martial arts fighter went on the defensive at the fourth press conference in as many days with American Mayweather at the SSE Arena, Wembley.
But the event has received some negative publicity since McGregor said to Mayweather at a press conference in Los Angeles on Tuesday, "Dance for me, boy".
"If he feels disrespected he's an idiot and **** him as well," McGregor told reporters at a press conference.
"I think it's ****ing ridiculous. I don't understand it. I know who I am as a person. Most realistic people can see that. He's trying to sway something by (saying I'm) disrespecting women."
"Racism still exists," said Mayweather, 40.
"I've got a diverse team. It's all about treating people how you want to be treated. You have to give respect to give it back.
"He totally disrespected black women, he called black people monkeys and he was disrespectful to my (13-year-old) daughter.
"I'm not going to stoop that low to talk about his wife or child. There's certain levels and you don't stoop to or cross. I love everyone."
Both claimed victory in the war of words.
"I smoked him in all four rounds," McGregor said.
"In the first round, they set me up with no music or anything. The **** you suit I wore went viral. Toronto was a wipeout, a 10-7 round, and New York was alright, and tonight I smoked him so it's 4-0, or 3-1 if you want to be generous."
But Mayweather, who has not fought since September 2015, believes he got the better of McGregor.
"I'm the best at it, when it comes to trash talking," Mayweather said.
"He's not able to push my buttons. He cannot out talk me.
"There has been a lot of trash talkers (through his career) and at the end of the day, he's not bad.
"We will rate him number two, I'm number one. He's got heart. You need more guys to be more aggressive to each other, do more trash talking to each other."