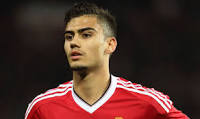 Jose Mourinho was happy with Manchester United's preseason, in which his team won five of their seven games — another, vs. Real Madrid, ended in a draw, but United won on penalties — in the U.S., Norway and Ireland. Big injuries were avoided, crowds turned up in their numbers and new signings bedded in.
Several players performed very well and impressed their manager; among those right up there was Andreas Pereira.
"I've had a good preseason; I've showed that I've learned during my time away on loan and I also have more to show," Pereira said after Wednesday's 2-1 win in Dublin against Sampdoria. "The Real Madrid game was the one which I enjoyed most. But there's a good atmosphere in the group and I'm already friends with [Romelu] Lukaku. We both grew up in Belgium. He's a funny guy, we get on well."
"I just want to make sure that I can show everyone at the training ground and inside the stadium what I can do," he explained. "I want to continue my development and find a way into the team.
"I got experience," Pereira said. "Experience at a club which was very different to United, where things didn't go well and there was a different type of pressure, where the fans and media were not happy with the league position. I experienced a new culture, language and country. Granada is a beautiful city and I visited the Alhambra Palace. The food was good, I liked the paella and I stayed in touch with my teammates at United."
A religious man, Pereira speaks Portuguese, French, Dutch, English and Spanish and has made 13 first-team appearances for United. However, he knew the time was right to move away — temporarily — from Old Trafford.
"I went there to get more minutes on the pitch and I did that," he said. "I wanted and needed that rhythm of playing every week at a high level, then it was my intention to go back stronger. I did that. I started regularly, I played a more technical, tactical and skill focussed style of football, one which was less physical than the Premier League. I played against some of the greatest teams in the world.
Which player would not improve from that?"
"I've come back and I feel calm, I feel stronger mentally and physically," said Pereira. "I can play as a midfielder, as a winger, as a holding midfielder. I'll play wherever the manager plays me but my best position is as a (central) No. 6, eight or 10."
"The manager just tells me to play my football and continue doing what I'm doing," Pereira said. "I will do whatever he tells me to do."