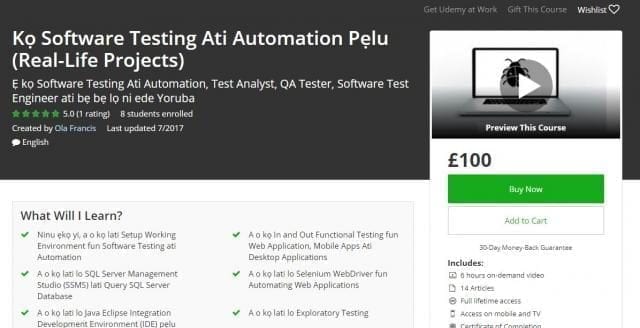 Are you wondered if you could learn Software Testing and Automation in Yoruba Language? Here is an amazing A-to-Z Online Course for Software Testing and Automation with Real Life Projects in Yoruba language.
The online course for software testing and automation is being provided by a seasoned Nigerian professional based in the UK. The tutorials are available Udemy while the previews can be watched on YouTube (embed later in the article).
The tutor, Ola Francis is offering Lifetime access to the course for 50% off. Be sure to take advantage of this discount while it lasts (through Sunday, 30th July 2017)! Here is where you can get your 50% off discount:
Read the introductory message below in code-mixed Yoruba language.
Ẹ kabọ si course ton jẹ Kọ Software Testing Ati Automation Pẹlu (Real-Life Projects).
Lakọkọ ẹ jẹ ki a ni lo kan wipe course yi ma jẹ hands-on training tutorial (itumo nin pe 90% practical ati 10% theories). Kiko ni mi mo.
WATCH THE COURSE PREVIEW IN YORUBA LANGUAGE BELOW:
Ninu Course yi ẹ ma learn step by step Manual and Automation Software Testing (Functional) ti a ma lo WinAutomation, Selenium WebDriver 3 ati iMacros browser addons fun automating the Functional part of Web Applications pẹlu over 20+ real life projects.
Software Testing Manual ati Automation jẹ most important skills lati le test front-end ati backend Web Application, Desktop Applications ati Mobile Apps. Paapa ju li lo iMacros ati Selenium WebDriver 3 fun GUI automation, Software Testing Automation je popular larin large community.
Course yi structured si ọ nọ pupọọ:
Awọn ẹkọ yi pisi video screencast ati guide, Homework wa ni be ti a ma se, Ninu ẹkọ yi, a o kọ lati Setup Working Environment fun Software Testing ati Automation, A o kọ In and Out Functional Testing fun Web Application, Mobile Apps Ati Desktop Applications, A o kọ lati lo SQL Server Management Studio (SSMS) lati Query SQL Server Database, A o kọ lati lo Selenium WebDriver fun Automating Web Applications, A o kọ lati lo Java Eclipse Integration Development Environment (IDE) pẹlu Selenium WebDriver, A o kọ lati lo Extract Transform Load (ETL Testing), MS Excel, Notepad++, Test Script, ati Java Code Templates, A o kọ lati lo SQL Server Integration Services (SSIS) lati Upload Data sinu SQL Server Database, A o kọ nipa Basic Microsoft Excel (Spreadsheet) ati Microsoft Word (Document) Object fun Creating Simple Dashboard, A o kọ bi a o ṣe Migrate Microsoft Access Database lọ si MSSQL Server Database, A o kọ Data Migration Testing, A o kọ lati le Report Bugs tabi Defects ati bẹ bẹ lọ.
"I put my best teaching methods to use in this course, so you'll learn through a combination of video lessons delivered by me, real life examples and case studies, homework to check your ability, and supplemental material." – Ola Francis
"I watched one of Ola Francis' video course on YouTube and was indeed impressed with the contents and presentation. You will be amazed with ones in Yoruba as well. Only a trial can convince you!" – Adewale Ademowo
Look forward to seeing you in the course. Feel free to forward this to friends and colleagues who would benefit! – Ola Francis
Link: A-to-Z Online Course for Software Testing and Automation with Real Life Projects in English Language